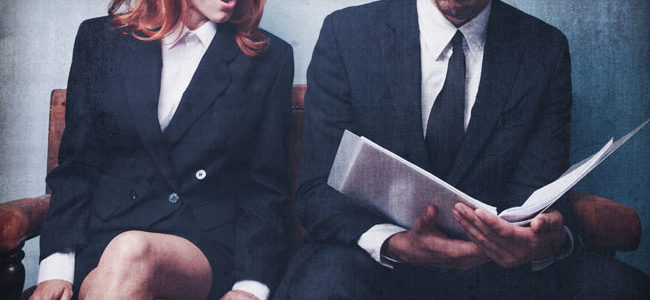 Retail Investors Return to Shock the Market
Welcome back, Joe Investor. We've been waiting for you…
There's no denying it, retail investors are pouring their money back into the markets. After years on the sidelines, Main Street is trying its hand at stocks again.
"On the surface, the numbers should raise eyebrows everywhere," says Rude researcher Noah Sugarman. "Average daily client trades at E*Trade totaled no less than 160,000 in the fourth quarter of 2013. That's up 25% from a year ago. Meanwhile TD Ameritrade saw clients make 414,000 average daily trades for the same period – a 24% increase from the year before. Similar trends have continued at both brokerages and others through January. And that's despite all of the volatility headaches that often scare away newcomers."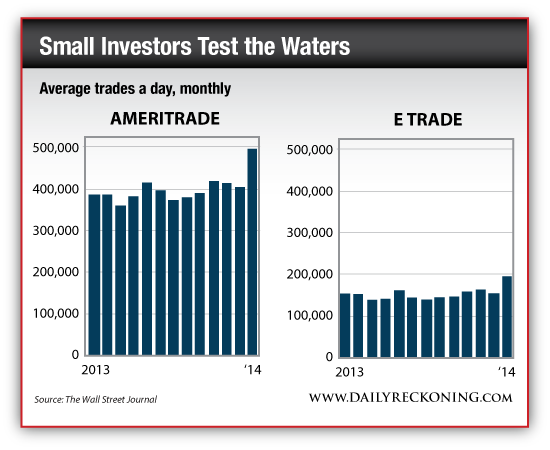 These new investors arrive in a market that's changed a whole lot since the last go-round.
"For one, the broker dealer landscape has evolved," Noah explains. "Smaller dealers aren't as plentiful amidst consolidation that has seen the big players dramatically increase their market share. And no longer are packs of day traders crowded around computers. Now, anyone who's got a solid at-home internet connection and a mobile device can make and monitor trades throughout the day."
So, has Joe Investor acquired a bit of investor savvy?
Some brokers seem to think so…
"TD Ameritrade looked in detail at trade activity in January and saw clients selling off momentum plays like Facebook during the January downturn and moving into safety plays, like blue chips and dividend-payers," Noah continues. "In fact, TD Ameritrade Chief Strategist JJ Kinahan notes that 'retail investors are beginning to trade a little bit more like professionals.'"
So what gives? Is the market ready to embrace the average investor?
Maybe. Or maybe not. After all, retail investors piling back into stocks has indicated trouble in the past. And retail investors tend to trail institutional know-how by wide margins…
Still, it's been a long, long time since stocks were "popular" investment vehicles. For now, the brokers can enjoy more commissions and fatter profits…
Regards,
Greg Guenthner
for The Daily Reckoning
P.S. This morning I gave my Rude Awakening readers a unique opportunity to discover the best long-term broker trend I'm seeing in the markets right now. It's a trend I've been following for months, and I think it's about to pay off handsomely. In order to be able to take advantage of great opportunities like this, sign up for my FREE Rude Awakening email edition, right here. It gets sent straight to your inbox every morning right around the opening bell – that way you're prepared for whatever the market has in store on any given day. Don't wait. Sign up for FREE, right here.