The Return of the "Nuclear Renaissance"
Three years ago the "Nuclear Renaissance" was getting underway.
The price of yellowcake uranium was on the rise, our resource maven Matt Insley reminds us, and uranium miners were seeing their best run-up since 2007.
Of course, this was before the Japanese tsunami struck in 2011, creating a nuclear disaster that threw the industry into a tailspin. As the Fukushima disaster unfolded, the crippled Tokyo Electric Power Co. nuclear power plant led to Japan suspending its fleet of reactors.
And the nuclear panic didn't stop there…
"Uranium prices tumbled and miners quickly turned from renaissance plays into retrenchment plays," Matt explains. "Japan shuttered its entire fleet of nuclear power plants and the outlook for the yellowcake was uncertain. Heck, even Germany came out with an announcement that it too would be shutting down its entire nuclear power plant fleet."
Of course, there was fallout.
Uranium prices have slumped 47 percent since the March 2011 earthquake and tsunami, Bloomberg reports. In fact, most investors left many uranium investments for dead.
But right now, we're seeing some serious signs of life in this sector…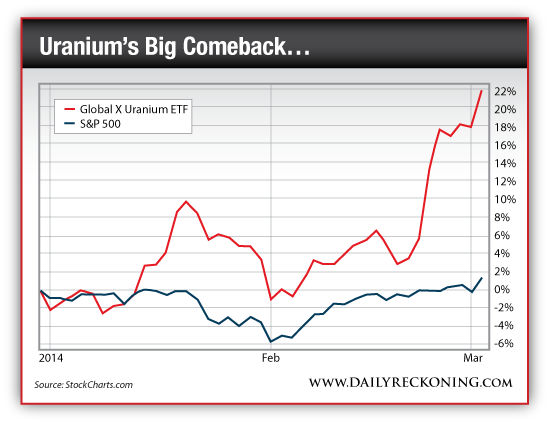 "Flash forward three years and the uranium industry is dusting itself off," Matt continues. "Japan recently announced it would begin powering up its nuclear power plants. This is music to the ears of miners and could be a return to grace for a nuclear renaissance."
The charts don't lie. Uranium-related plays are quickly becoming some of the best performing investments of the year. You can see from the above chart that the Global X Uranium ETF (NYSE:URA) is dominating the S&P 500 so far this year, rising more than 21%. We suggest you keep an eye on this market as the year progresses.
Regards,
Greg Guenthner
for The Daily Reckoning
P.S. In this morning's issue of The Rude Awakening, I gave my readers a chance to discover an opportunity to get their hands on even more power-packed uranium investment ideas. Not only that, I also gave them a shot at discovering my absolute favorite uranium play for 2014. And that's in addition to a complete rundown of the trends I'm currently following and 5 specific numbers to watch as the trading day continues. If you're not reading The Rude Awakening email edition, you're not getting the full story – or any of the great opportunities packed into every issue. Sign up for FREE right here, to fix that.