Biotech Bulls May Be Near Exhaustion
Tear up your scratchers — there's a much more profitable lottery you could play right now.
Here's a hint: you can't buy tickets for this lotto at your local minimart. To cash in on this ridiculous gamble, you have to open a brokerage account…
I'm talking about the biotech lottery. This game has dominated the market so far this year. On any given day, you can easily find a biotech stock that has jumped 20% or more. Sometimes, these gains even sneak into triple digits.
To understand the power of this rally, look no further than the Biotech iShares ETF (NASDAQ:IBB). This ETF has even dominated the red-hot NASDAQ, tripling its performance over the past four months.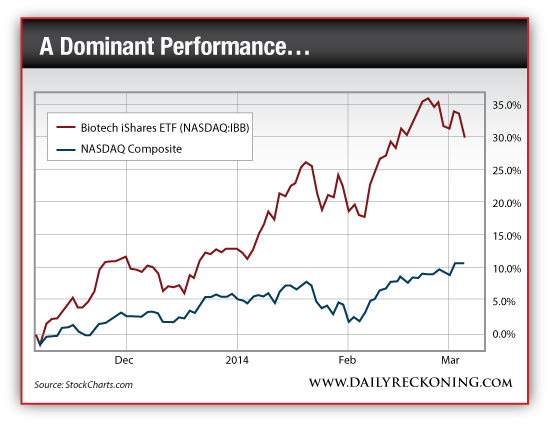 However, the big bull run in biotechs looks like it could be nearing exhaustion.
IBB fell more than 2.6% yesterday as traders began to sell some of the stronger momentum names. And just last Friday, IBB dropped nearly 3%, marking the index's first significant pullback in weeks.
Momentum indicators and strong downside volume are flashing warning signals here. I suspect a retreat to at least $240 for IBB in the coming weeks.
If you're looking to limit your risk, you should consider cashing out your biotech gains and avoiding this sector as it becomes more volatile. Remember, these furious rallies are usually met with equally powerful selling. Don't wait for the breakdown to take your gains. If you do, you might be too late…
Regards,
Greg Guenthner
for The Daily Reckoning
P.S. By the way, in my free Rude Awakening email edition, I gave readers a chance to learn about an incredible opportunity to begin betting against IBB. And that's an example of just one small bonus Rude Awakening readers are treated to. Every single trading day, they're also clued in to the most important trends I'm currently following, 5 numbers to watch throughout the day and at least 3 chances to discover real, actionable profit opportunities. Bottom line: If you're not reading The Rude Awakening, you're missing out on some serious info. Sign up for FREE, right here, and never miss another issue.