Huge Growth Potential in the Online Grocery Market
There are plenty of life's little rituals you'd probably love to skip. But I'm sure few rank as high on the list as the after-work grocery store free-for-all.
Even outside of the rush-hour chaos, I don't think I've ever met anyone who gets excited for a trip to the supermarket…
Of course, there are some smarty-pants e-commerce people who'd love to change your grocery shopping habits. In fact, many retailers are already battling for your grocery dollars — online.
"Groceries as a whole saw about 115 million U.S. households spend $884 billion in 2013 alone," explains Rude researcher Noah Sugarman. "Of course the online retail giants would like a piece of the action. Even a small chunk of this market can spell massive increases in revenue. As it stands, Amazon is the clear front runner online. But Walmart claims the top spot of all food providers. And both companies have begun testing grocery-delivery operations on the west coast."
They're not the only ones playing this grocery-delivery game either. Smaller companies are finding ways to innovate in this space as well. One such business — Peapod — sees massive success in delivering groceries and successfully utilizes mobile apps to give consumers an easy way to save time and money on food shopping…
All told, online groceries could become a massive growth opportunity. Don't believe for one second that online shopping has reached peak penetration. The online shopping pie might seem huge, but there's plenty of room to grow — even when it comes to music, movies and books.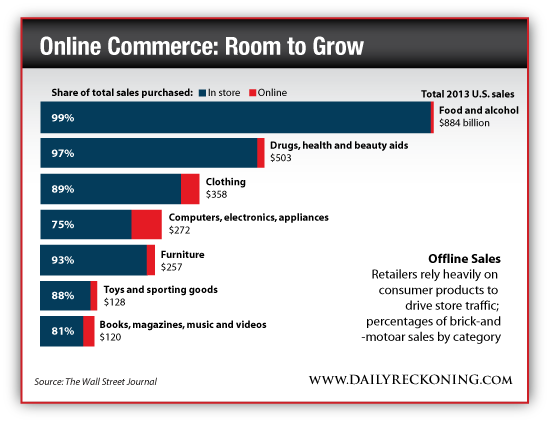 "Even the home turf for online shopping — computers and electronics — sees just 25% of transactions taking place online," Noah says. "But the one market that's got the likes of Amazon and Walmart salivating the most just so happens to be the most difficult to conquer — food and alcohol."
Keep in mind, we're talking about a market that's seen other companies try and fail in spectacular fashion. But where past retailers have failed to conquer the grocery-delivery market, companies today will succeed by crafting the most reliable, convenient and innovative shopping experience.
This coming shift to online food purchases also plays alongside the growth of mobile payments that we've written to you about recently. Peapod sees 30% of its food purchases made on mobile devices. Amazon also has a mobile food app for its business.
Plans are quickly coming together. The first retailer to conquer the grocery world will hit the jackpot.
Regards,
Greg Guenthner
for The Daily Reckoning
P.S. In this morning's Rude Awakening email edition, I gave readers an exclusive chance to discover my absolute favorite play on the "online grocery" trend. Not only that, I also showed them 5 numbers to watch and 3 other opportunities to learn about real, actionable investments, right now. If you didn't get, you're not getting the full story. Sign up for FREE right here, to make sure that never happens again.