The No-Risk Bitcoin Play
If you missed out on "Satoshi Nakamoto's" brilliant idea the first time around, here's your second chance…
Today, I'm going to tell you how to get the major benefits of Bitcoin with none of the risks.
But first, will the real Satoshi Nakamoto please stand up?
Late last week, the mastermind behind Bitcoin was chased through the streets and onto the freeway by a rabid group of reporters… only to deny any involvement with the infamous cryptocurrency.
Ever since the original white paper was submitted on Bitcoin, its author, Satoshi Nakamoto, was thought to be a pseudonym. That is until a Newsweek journalist narrowed down a handful of people that go by that name here in the U.S. and found a potential match: Dorian Satoshi Nakamoto…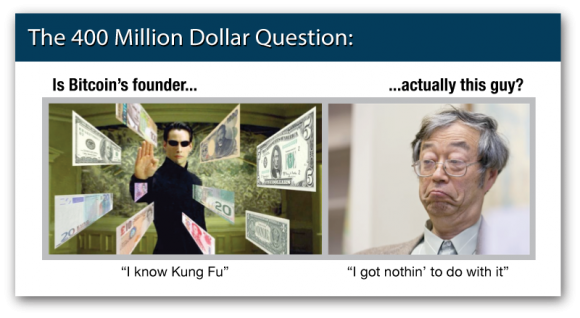 The reclusive Japanese-American is described by his younger brother: "smart, intelligent, mathematics, engineering, computers. You name it, he can do it," he says. "He's very focused and eclectic in his way of thinking." Oh yeah, he's "fickle and has very weird hobbies," including an obsession with model trains, according to the nearly 5,000-word Newsweek article.
Indeed, if this is true, then truth is stranger than fiction.
And Dorian Nakamoto is worth $400 million (of course, who owns those Bitcoins is unknown unless they're transferred in full view of the Bitcoin community). Yet he would emerge from his modest Los Angeles home, with his modest silver Toyota Corolla parked in the driveway, only under one stipulation: if one of the reporters would buy him lunch.
Chowing down, in between bites, he kept repeating "I got nothin' to do with it." Indeed, finding Bitcoin's true founder has become as much of a roller coaster as investing in Bitcoin itself. And it's no wonder the real guy hasn't come forward, with the level of stress that's revolving around it. But there is this…
After the flood of news about Dorian Nakamoto came out…
A 2009 message on the P2P Foundation website with the identical email address used when the original white paper on Bitcoin was released…
The account name: Satoshi Nakamoto
The message: "I am not Dorian Nakamoto"
Bitcoin haters and lovers alike all agree on three undeniable benefits the technology offers.
The first big benefit is obvious: Bitcoin has proven a ridiculously high growth potential.
But if you're not one of the early investors who rode Bitcoin into its current territory from double- or single-digit dollar sums, or even pennies, to triple- or quadruple-digit dollar sums, don't bother risking your money now (that should go without saying).
In the meantime, we'll keep hunting for other high-growth opportunities for you.
The second big benefit is this: With Bitcoin, moving money around is cheap.
Whether it is bank transfers, credit cards or PayPal, each medium charges user fees on both sides. If you have ever used credit cards or transferred money overseas… Even out-of-network ATMs get you with those maintenance fees… you know, the ones that always seem to be getting higher by 50 cents?
Bitcoin doesn't have any of that. And when it comes to international transactions, the advantages are even greater. There are no currency conversion fees whatsoever.
But as I promised earlier, you don't need to use Bitcoin to get that big second advantage anymore.
You can use the ultimate financial app instead. It's called Robinhood, and it's scheduled to debut sometime next month. Robinhood's founders Vlad Tenev and Baiju Bhatt are two Stanford grads setting out on their third finance company.
Your go-to service for tracking stocks may be something like Yahoo. But think about what you use to trade on your phone (if you do that at all) and I bet you're unsatisfied.
Robinhood is a cool new app that allows you to trade stocks without getting charged for any commission. Wait a minute… you may be wondering.
How would it possibly compete with bigger brokers and make money?
Robinhood has no armies of sales reps, and no big brick-and-mortar buildings to construct and maintain. It also doesn't need revenue for big Super Bowl ads.
In place of all this, it has a small engineering team, automated technology and the power of the people. It makes money not by leeching off of the trades you execute, but by moving your money around on the other end of the transactions.
Importantly, this brings up something most of us take for granted: Stock trading isn't something we have to pay $7-10 a pop for. Check out this comparison: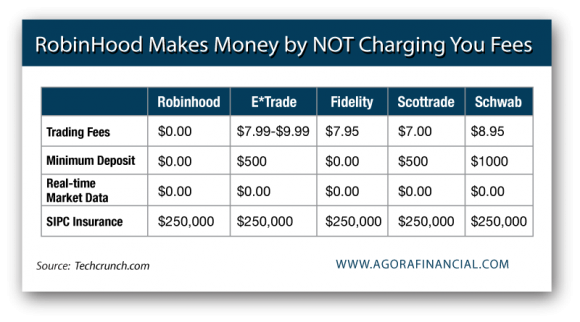 And check this out: There's a crowdsource section that tells you how your friends are doing (if you want). Bloomberg terminals allow you send messages from one user to another, and Robinhood does the same…
The community benefits… it uses the "wisdom of the crowd" — it stops working as well when there are bubbles or herding… so they have a lot of people trying to figure out how to make all these things super-transparent…
You can buy stocks in three taps. About 250,000 people are signed up for Robinhood right now.
Finally, let's talk about how to get Bitcoin's third big benefit without investing in Bitcoin itself.
The third benefit people get from investing in Bitcoin is that it's a tax haven.
In fact, I've referred to Bitcoin as "the doorway to the gray market" when I talk to friends about it. For example, if someone has a lot of money in Bitcoin, they don't have to declare taxes on it until that Bitcoin is converted to U.S. dollars. That means you can convert your Bitcoin into a currency that allows for a lower tax and then convert that currency into U.S. dollars.
Best,
Josh Grasmick
for The Daily Reckoning
P.S. To understand the most important (and sometimes underappreciated) benefits of a host of breakthrough technologies, sign up for my FREE Tomorrow in Review email edition. In every issue I give readers a detailed analysis of the most exciting new technologies about to hit the market – and my favorite ways to play them. So don't wait. Sign up for Tomorrow in Review, for FREE, right here.