Consumer Stocks Back from the Dead
The death of consumer stocks is greatly exaggerated…
Not two months ago, many folks were predicting sharp, painful corrections among retail names and other cyclical stocks after a lukewarm holiday sales season. In January, a mini-correction ensued. But it didn't last long. That's right — all of those retail names everyone seems to hate right now are back…
After trailing the S&P 500 by 3.3% in the first four weeks of the year, the Consumer Discretionary Select Sector SPDR ETF (NYSE:XLY) has reemerged as a market leader. Since its January slump, it now outpaces the broad market by about 2%.
"These stocks keep surprising the naysayers. And now that they've emerged from the weeds, there's plenty of reason to believe this sector has much more to give in 2014," explains Rude researcher Noah Sugarman. "In the same way that we were naïve to write off this bull market in January, we were naïve to write off its best performing sector. Over the last 5 years, consumer discretionary has surged 325% – beating the skeptics in dramatic fashion. This sector was also last year's top performer among nine sector SPDR ETFs."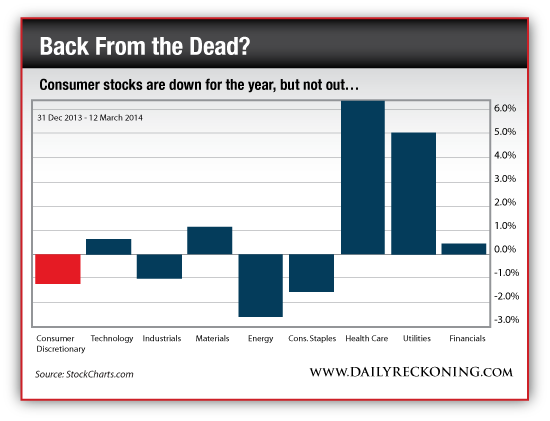 "The Fed reports that Americans' net worth – the value of their assets minus liabilities – came to $80.7 trillion in the fourth quarter of 2013," Noah continues. "That was a $9.8 trillion jump from a year earlier and well above the 2007 peak of $68 trillion. Expect that net worth jump to translate into spending increases as the year goes on. If there's one thing we know about the U.S., it's that we're not a saver economy."
With $192.1 million in inflows just last week, the Consumer Discretionary Select Sector SPDR Fund is a case of a strong sector ETF that's going to keep on giving. That makes sense, considering American consumers have more money in their pockets.
So, don't bet against the U.S. economy's big guns while there's still plenty of ammo in reserve.
Regards,
Greg Guenthner
for The Daily Reckoning
P.S. XLY is in play this month as it tags short-term support. But I have another solid consumer play in my pocket, and in today's issue of The Rude Awakening I gave readers a chance to learn more about it. Sign up for The Rude Awakening, for FREE right here, and never miss another great opportunity like this.