Don't Buy the Emerging Market Hype
Don't go searching for emerging market "value plays". Not yet, anyway.
If you do, you'll probably get burned.
Today, I'm going to show you a couple of terrible looking emerging market charts. They're quickly finding lower ground, diving toward some ugly first-quarter returns.
But first, you've probably noticed a few market pundits and financial news outlets are now urging investors to take a shot at emerging market names — because many of them are "cheap".
I get it. It's difficult to find many deep value plays on the U.S. stock market these days. But that's not a good enough reason for you to try and catch the emerging market falling knives.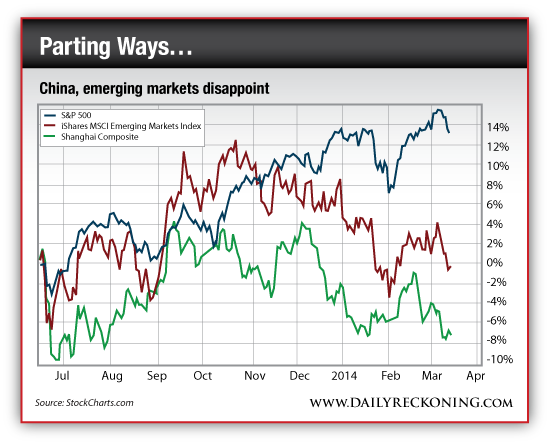 You can see on the chart how the iShares Emerging Markets Index and China both decoupled from the performance of U.S. stocks in late 2013. As of this morning, most emerging market names look awful. I'm not seeing any reason at all to start buying just yet…
However, consider some of the headwinds that could push sentiment levels to extremely low levels in the coming months:
"China GDP growth has slipped from a 10.4% annual rate in 2010 to just 7.6% last year. Elsewhere, Brazil saw its current account deficit hit a 12-year high in 2013 – showing more money heading out of the country than coming in," explains MarketWatch. "At the same time, stability at home (and giddy sentiment from a surging S&P) led to a repatriation of cash. Regions like Brazil and China were the only place to find growth during the financial crisis, but a lower unemployment rate and brighter outlook at home has made America more attractive and investors have moved their money."
So there you have it. All of those excited BRIC investors from the previous decade have dumped their cash back into U.S. markets. Crappy economic data overseas also isn't helping these emerging markets gain any traction.
These charts will eventually bottom out. The key is not to jump in too early. Don't get tunnel vision and go after the "cheap" emerging market names just yet. They'll burn you…
Regards,
Greg Guenthner
for The Daily Reckoning
P.S. There's one emerging market name that's separating itself from these underperformers, and I think it's one of the strongest longer-term buys on the market. In today's issue of The Rude Awakening, I gave readers a chance to discover a chart that shows them just what company I'm talking about. Never miss another opportunity like this. Sign up for the FREE Rude Awakening email edition, right here.