A Stock Market Crash is Not Inevitable
Here's this morning's unofficial tally:
Putin takes Crimea. Stocks go up. Gold goes down.
Got it? Good…
Once again, the market defies the growing crowd that insists on forecasting another megacrash like we witnessed in 2008. In fact, the financial blogosphere is bursting with market comparisons to 1987, 1929 and any other year stocks took a tumble.
Stocks are up big over the past five years. So they must suffer a big drop soon, right?
Not necessarily…
Let's put away from the charts for just a minute and get to a question that a lot of people just aren't asking right now: How are businesses responding to the economy right now?
"Admittedly, there's been a bit of a disconnect between stocks and the economy," says Rude researcher Noah Sugarman. "But this bull run could be nothing compared to what's in store should spending pick up steam."
Between 2009 and 2011, businesses under-invested by about $175 billion, according to The Wall Street Journal. Many businesses have been hesitant to put their capital back into a still fragile economy.
That's been a drag on the big picture. But things could be about to change…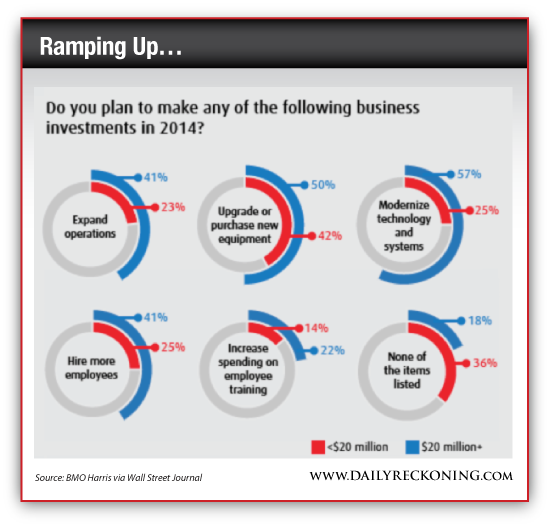 BMO Harris Bank sees businesses ready to invest this year, with 64% of smaller businesses (revenues less than $20 million) and 82% of larger ones planning on spending in 2014. These numbers reflect what BMO has seen over the past 18-24 months – companies making more investments in cap-ex for both maintenance and expansion.
"Perhaps most encouraging, is that companies plan on using their cash, rather than debt," Noah continues. "Just 11% of small businesses and 6% of larger ones intend to fund their investments with debt alone. That's opposed to 59% of small companies and 49% of large ones saying they'd exclusively using their cash reserves."
That means the coming spending won't be overleveraged like we've seen a lot in the past. And if that's the case, just wait until this spending boost is reflected in economic data.
"Sure, the S&P 500 has surged 200% on a total return basis since 2009," Noah says. "That might signal a peak to some. But we could be staring down incredible gains for both the economy and the markets. Don't make the mistake of counting this recovery out yet."
Regards,
Greg Guenthner
for The Daily Reckoning
P.S. Every weekday morning, I send readers of my Rude Awakening email edition a fast and unfiltered look at the markets. This essay is just one small part of it. In addition to this quick rundown, I also share my favorite trends to watch, 5 important numbers to follow and at least 3 specific chances to discover top-of-the-line investment advice. Sign up for the FREE Rude Awakening, right here, and start getting the full story.