U.S. Homebuilders Brush Off the Snow
Bad weather has been the go-to excuse for soft earnings this season.
Didn't sell as many DVD players as expected? Blame the snow. Hamburger revenue down? No worries. Nobody eats when it's cold, anyway…
However, there is some upside to the horrible winter weather. For instance, you can now buy one of my favorite plays for 2014 on sale as it bounces off support. The undercover rally continues—now's your chance to jump on it.
I'm talking about the homebuilders. Here's the story…
The iShares Dow Jones U.S. Home Construction ETF (NYSE:ITB) finally started to outperform the broad market toward the end of January. The S&P was slumping, but ITB marched higher.
After emerging as a new leading sector, homebuilders took a break. ITB dropped down to earth in March. After soaring ahead of the broad market, the construction index is essentially flat on the year… The S&P 500, in contrast, is up nearly 1.3%.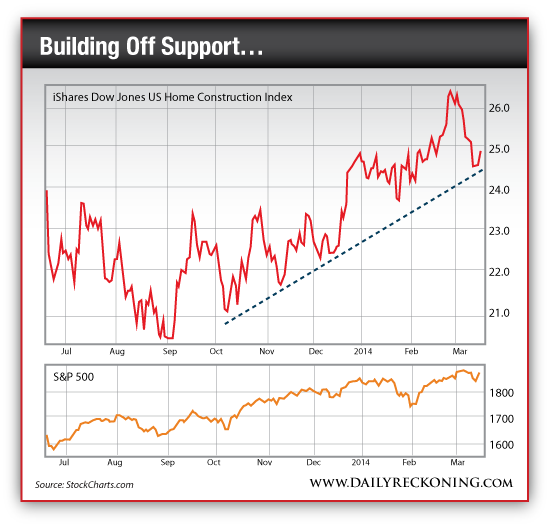 Of course, many industry folks are blaming bad weather for some of the lackluster numbers that have helped sink housing stocks lately. But here's the thing:
Unlike some of these weather-related excuses for bad retail numbers, the snow and extreme cold actually does impact the construction business…
"You can see how weather is impacting the data," reports Bespoke Investment Group. "Both the Northeast and Midwest were the most impacted by the weather this winter…they are both well off their recent highs. In the South and West, where weather has not been as much of an issue, though, Housing Starts remain right near their post-recession highs."
As I said back in January, I think this noise is creating yet another buying opportunity for all things housing related. A significant move higher in these homebuilders will probably take a lot of investors by surprise.
After sitting out for most of 2013, many of these construction and homebuilding names are beginning to sneak higher. Remember, both the home construction ETF and the retail-heavy SPDR Homebuilders Index ETF (NYSE:XHB) underperformed the S&P in 2013, while home prices actually increased 10.9%. That marked their biggest annual increase since the bursting of the housing bubble — and homebuilders spent the year consolidating instead of ripping higher.
ITB is your best shot at a longer-term trade. I still like the ETF as a buy-the-dips play.
Regards,
Greg Guenthner
for The Daily Reckoning
P.S. This morning I gave readers of The Rude Awakening a chance to discover my two favorite individual stocks in this sector. Click here now to sign up for FREE, to get other great opportunities like this.