More Clues to Support a Market Correction
The market continues to swirl higher since its January swoon.
But there's an eerie calm setting in…
Is this the eye of the hurricane? Is the market trying to lure you out of the cellar, only to rip apart your house and throw your family into a FEMA trailer?
Maybe…
Late last week, the market relayed an important signal to my trading buddy Jonas Elmerraji…
"On Thursday morning, we got an important signal: we were stopped out of both of our open trades," Jonas explains. "It wasn't a desperate bloodbath sell – we were actually up slightly on both names when they violated support…
"But we followed our rules and sold. That means that, for the first time since 2012, we're sitting on an empty portfolio. For reference, the S&P 500 index has dropped more than 17% lower cumulatively in periods when our portfolio has been empty."
That's not the only clue that might signal a correction is afoot. Momentum names are quickly beginning to roll over…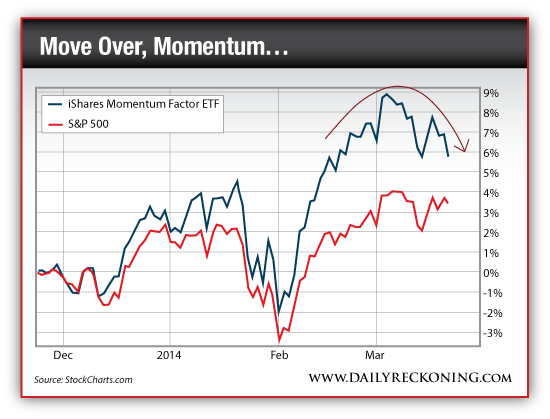 After ripping higher in February, traders are selling off many of the popular momentum stocks. Add this to the fact that the market is having trouble taking out new highs near the top of its trading range, and you can see why a downside move could be brewing…
"You can see why it matters when multiple names violate support all at once. It's a bearish indication tacked onto a market that I've already been saying is overdue for a correction," Jonas continues. "The last four trading sessions have been completely sideways, and Friday's failed attempt at new highs came on the highest trading volume we've seen in almost a year. Likewise, momentum in the S&P 500 is starting to look just like it did before our last big correction in January."
Of course, this doesn't mean that the market has to begin a colossal drop today. But you can prepare right now for turbulent trading starting right now…
Lighten up your exposure. Sell some stock. If you do see a trade you like on the long side, buy half your usual position. Preservation is key when the market is at potential extremes.
Most importantly: don't take any chances on falling momentum stocks. These are the names that could really hurt you if the market really begins to drop…
Regards,
Greg Guenthner
for The Daily Reckoning
P.S. In today's issue of The Rude Awakening, I gave readers a chance to learn my favorite strategy to make gains in this market. If you didn't see it, not to worry. I'll be back tomorrow – and every trading day – with another issue of The Rude Awakening that will include several chances at great investment opportunities just like this one. Signing up is completely free and only takes about 30 seconds. And there is no obligation once you sign up. So you have absolutely nothing to lose. Don't wait. Sign up for FREE, right here. Your next issue is only a few hours away.