Ironic Opportunities from the Latest Tech Crash
Keep your guard up. The countless momentum breakdowns we're seeing could quickly spread throughout the market and bleed your trading account dry.
I warned you yesterday that the market looked like it was ready to tap dance on our faces.
But wait just a minute…
The S&P dropped half a percent — and the Dow nearly broke even on the day. Hardly cause for panic, right?
Sure, most of the larger stocks survived. But if you look at the NASDAQ, you'll see an entirely different picture. The tech-heavy index dropped more than 1% Monday. The turds in the punchbowl this week just happen to be the high-flying momentum stocks I warned you about yesterday…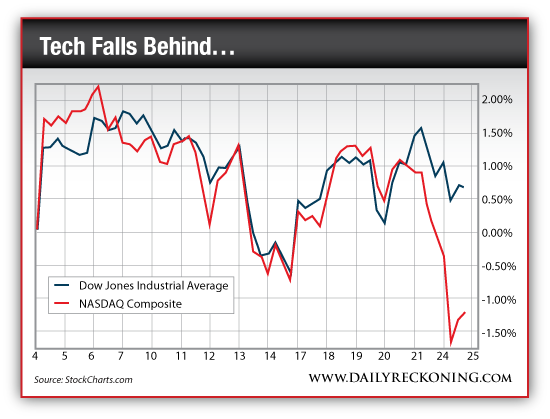 Even with the 1% drop yesterday, the real damage happened under the NASDAQ's surface. Twitter fell more than 4%. Facebook lost nearly 5%. Netflix dropped nearly 7%. Google — which had risen as much as 9% so far this year — dropped another 2% yesterday, chopping its year-to-date gains to a paltry 3%.
Granted, these popular stocks aren't the entire market. But they are some of the flashiest stocks retail investors love to buy. Even if you don't own a single share of these popular momentum names, yesterday's market action is cause for concern.
"I don't think that Twitter Inc., LinkedIn Corp., Netflix Inc. or Tesla Motors Inc. are the force that has been driving the market higher — but they certainly garner an enormous amount of attention from the trading public and financial press," Barry Ritholtz explains via his Bloomberg View column. "But let's not put lipstick on this pig. The technology sector was down almost 2 percent today while the broader market is down less than half a point. And while technology is off a little more than 4 percent from its peak… some names are just getting knocked down from their peaks."
You might wonder where the hell all this hot money is going…
Look no further than the old school technology stocks. After Microsoft's big breakout early last week, the stock continues to sneak higher. IBM also finished the day higher. And Apple, the bear market wonder, jumped more than 1% on the day.
If you absolutely have to be in anything technology related, these stocks are where you can hide out for now.
Regards,
Greg Guenthner
for The Daily Reckoning
P.S. In today's issue of The Rude Awakening, I gave readers a chance to discover a specific stock on the NASDAQ that I think will push higher despite the shaky nature of the tech sector. To learn how to gain access to this and other great investment opportunities, sign up for my FREE Rude Awakening email edition, right here. In addition, you'll also gain access to a free report that shows you a simple 5-point strategy to "beat the Street." So don't wait another minute. Start learning how you can make incredible gains in any kind of market, by signing up for The Rude Awakening, for FREE, right here.