Financial Opportunities from the Biotech Bloodbath
Biotech stocks have rewarded traders and investors with spectacular gains over the past few years. But the massive run-up that's drawn so much attention looks like it's finished…
A biotech blowout is bad news for stay-and-pray investors who are holding out hope for more spectacular gains. Sadly, they'll probably go down with the ship. You can't save them. But you can profit from the bloodbath. More on how in just a minute…
First, a quick recap:
"The Biotech iShares ETF (NASDAQ:IBB) is up more than 50% year-over-year," Rude researcher Noah Sugarman reports. "That incredible growth rate only increased in the beginning of 2014, with biotech funds seeing more inflows than they did in all of last year – after already doubling the S&P's returns in 2013."
The S&P 500's biotech stocks are up more than 400% from their March 2009 bottom, versus a gain of about 180% for the rest of the market. And when you run the numbers side-by-side, it's pretty obvious where the money's going…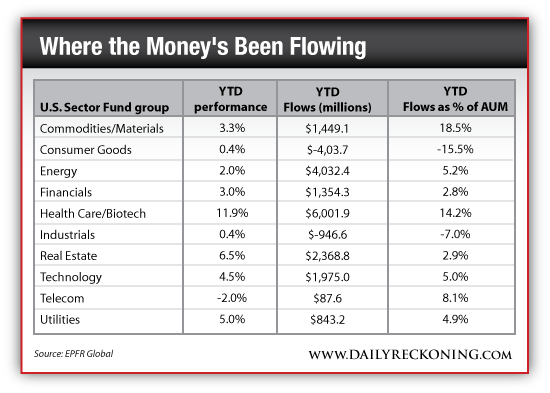 However, this month's price action has shaved serious momentum off of the market's hottest plays, with Biotech stocks taking some pretty big hits across the board. IBB is down about 8% in just the last few days. The parabolic run-up is toast…
So, if the party's over, investors should be asking themselves one question – where's all of the Biotech money headed?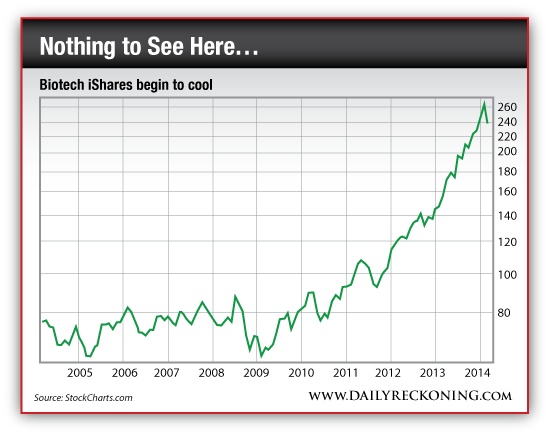 "There are a couple of sectors whose potential stands out to me here, but none more than financials," Noah continues.
Financials could be the bucket that collects all the cash falling out of the biotech sector. BTIG sees financial companies capitalizing on economic improvement, rising interest rates and a just-completed industry-wide stress test.
Those stress tests are actually a significant bull indicator for financials. The fund's top holdings – Wells Fargo, JP Morgan chase, and Bank of America, were among the 29 out of 30 institutions that passed the test. In fact, Dick Bove at Rafferty Capital notes that these companies have produced three straight years of modest returns, but he expects a 100% increase as they start to operate at full capacity in a healthy economy.
Regards,
Greg Guenthner
for The Daily Reckoning
P.S. The key to surviving the biotech bloodbath is to rotate into financial stocks. And I've got a new one I've been keeping my eye on. In today's Rude Awakening I gave readers a chance to discover it for themselves. And that's just one small bonus for being a free subscriber to The Rude Awakening. In every single issue, readers are also treated to a rundown of my favorite trends, 5 specific numbers to watch in the markets and no less than 3 chances to discover top-of-the-line investment advice. Sign up for FREE right here to start taking advantage of all these great benefits.