A Boring Way to Profit as Momentum Stocks Decline
Don't look now…
The boring stocks are back.
This week's continuation of the Great Momentum Massacre has torn down some of the biggest gainers of the past six months. I know it's difficult to watch traders slaughter these momentum darlings. But you have to tape your eyes open and pay attention. Your trading account depends on it…
Here's the tally (so far):
Tech stocks? Cooked.
Social media? Butchered.
Biotech? Obliterated.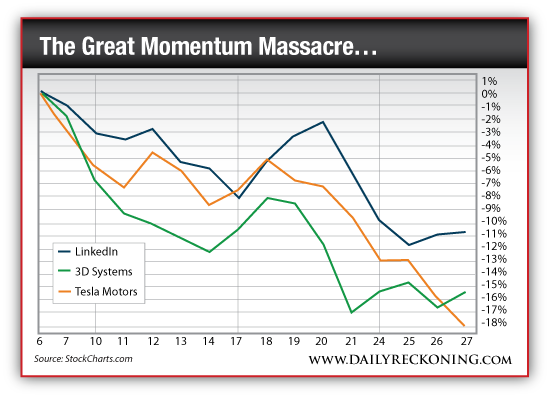 Granted, after yesterday's action, some of these trades are looking less terrible. Unfortunately for anyone attempting to hold these stocks long term, "less terrible" is far from bullish. Sure, you could take a few shares for a trade to see if they bounce here. But it's tough to say at this point if any moves higher will become anything more than a relief rally.
Here's a fun test you can run on your trading portfolio right now…
If you find yourself thinking "Gee, my trades are only down 2% today," after the closing bell every day for a week, it's probably time to trim your losses and figure out what the heck is going on.
Here's a hint: investors are trading in their riskier growth stocks that have already produced huge returns. Instead, they're opting for boring, safe stocks.
That's right. While the NASDAQ continues to slip lower, everyone is buying up Dow components and other boring names that have lagged the averages lately. Take a look…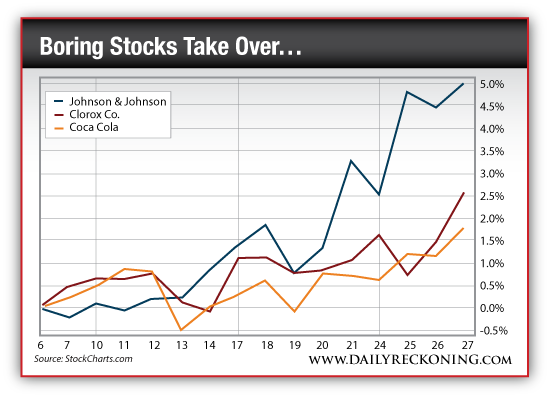 Stodgy dividend-payers like Johnson & Johnson and Clorox are catching a bid. Both are up more than 2.5% over the past 15 trading days while growth keeps getting smacked.
The move to "safe" stocks makes sense. The Dow has slipped behind the rest of the market this year. While the S&P and NASDAQ registered new all-time highs earlier this month, the Dow was nowhere to be found. Now, it's time to play catch-up…
Does this rotation to boring stocks mean that a market top is in?
I don't know. I don't call tops. I don't call bottoms. I just spot opportunities. If you want to get anywhere in the trading game, this should be your goal, too. Look for the boring stocks to continue to gain traction. And if you're desperately hanging onto faltering momentum names, today would be a good day to reevaluate you positions…
Regards,
Greg Guenthner
for The Daily Reckoning
P.S. Look for the boring stocks to continue to gain traction. And if you're desperately hanging onto faltering momentum names, today would be a good day to reevaluate you positions. Sign up for The Rude Awakening for FREE today to discover how you can rotate into the very best trades the market has to offer…