One Sector that Has Taken Over the Market
While Facebook and its mo-mo brethren take the express elevator to the basement, another group of stocks is sneaking to new highs.
Less than two months ago, this sector was left for dead—while momentum darlings and biotech wonders hoarded the market's gains all for themselves. But the tables have turned. Right now, energy stocks have taken control of the market. They're headed higher—and you can easily hop on board and bank gains today.
The Energy Sector SPDR ETF (NYSE:XLE) has shaken off its winter slump and is powering to new highs: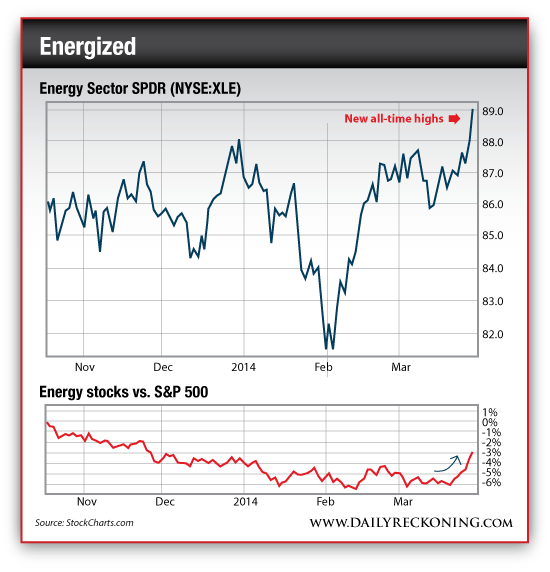 While the media (and most traders, for that matter) continue to fixate on the biotech carnage and recent IPO flops, energy stocks have proven to be resilient (and profitable).
Obviously, XLE is the easy way to play the trend. Buying this powerful breakout should give you plenty of ammo for gains heading into the second quarter…
But if you're looking for specific energy names, you need to check out some of the smaller domestic oil & gas producers…
"A huge opportunity that we're keeping an eye on is the resurgence of U.S. oil and gas," explains my commodity-trading counterpart Matt Insley. "I've been covering this field in depth for three years now. And I can assure you that there will be massive profit opportunities coming from America's oil- and gas-rich soil. I've been to the foothills of North Dakota and to the flatlands in Texas's Eagle Ford and many other oil and gas hot spots."
Matt's headed out west soon to get even more insight into emerging hot spots — and a detailed update on North Dakota's Bakken formation.
"What we're seeing in America is a once-in-a-generation opportunity," Matt continues. "Over the next few years, we'll witness gains that haven't been seen since the early 1900s. If we play it the right way, we're looking at wildcatter-type profits. All right here in our own backyard."
While he isn't officially letting new traders in at the moment, you can get access to Matt's next oil gusher alert here. It's only available for a couple of short hours—so hurry while there's still time…
Regards,
Greg Guenthner
for The Daily Reckoning
P.S. If you're looking for specific energy names, you need to check out some of the smaller domestic oil & gas producers. Sign up for the Rude Awakening for FREE today to discover how you can trade the very best oil & gas stocks the market has to offer…