A Healthcare Trade That's Better Than Biotech
Biotech has bubbled over.
You've watched the collapse firsthand. Traders have picked the high-flyers off one by one.
But here's what Wall Street's not telling you…
Healthcare can still make you money even If biotech stocks can't.
"When biotech sneezes, healthcare might catch a cold," Rude researcher Noah Sugarman explains. "But healthcare stocks can easily recover from this ailment in a way that the sickly biotech probably won't. That's all because there's some serious long-term value to be had in healthcare. Don't throw out the good with the bad."
Biotech's dramatic rise started getting bubbly late last year. But guess what? The healthcare sector– established drug companies, hospitals and health insurers– is actually beating the market without the ridiculous volatility you're seeing in biotech names.
Over the past couple of years, the S&P' Health Care Index has jumped 55%, versus the S&P 500's 32% rise. That space has also gained more than 5% in 2014, while the rest of the market has flat-lined.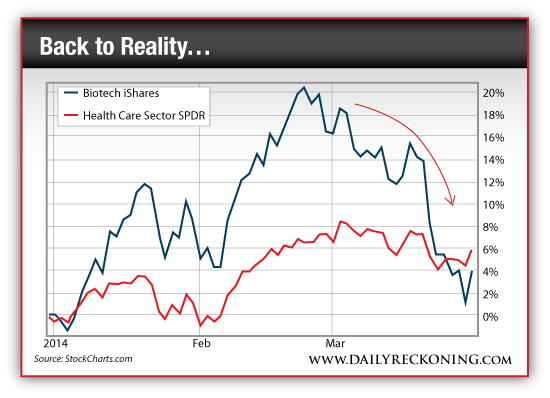 You've got to make the distinction between biotech and healthcare here. Just look at the difference in performance over the past month. Biotech shares shaved their 20% year-to-date gains down to the single digits in a matter of weeks. Meanwhile, established health care stocks consolidated in an orderly fashion.
"The health care sector has a lot going for it down the road, too," Noah reminds us. "The Affordable Care Act, along with an aging population, both remain big catalysts long term."
The Health Care Select Sector SPDR ETF (NYSE:XLV) is in a great spot right now. It's bouncing nicely off its 50-day moving average. A trade here on the long side is a safe bet.
Regards,
Greg Guenthner
for The Daily Reckoning
P.S. In today's email edition, readers discovered a brand new healthcare trade. It's a big, established drug company that's on the verge of a huge breakout. Sign up for the Rude Awakening for FREE today to discover how you can trade pharma and biotech stocks for big gains…