Survey Says: Avoid the Stock Market
In honor of yet another all-time high in the S&P 500, I have a quick question for you…
If you had a spare $1,000, where would you invest it?
If your answer has anything to do with the stock market, you're in the minority.
Shocking, isn't it?
A Gallup poll posed this question in a survey in January — shortly after the previous all-time highs registered. The results speak for themselves. Half of Americans said that if they had $1,000 to spend, investing in the stock market would be a bad idea. Only 46% agreed that a stock investment would be a smart move…
Now, in the grand scheme of life, $1,000 won't last long. But how many record highs does an investor need to see before he admits that the stock market's not such a terrible place for his spare cash?
The answer, apparently, is a whole hell of a lot more than the market's delivered over the past 12 months.
Yes, once again the S&P 500 posts a record-high close. But individual investors are anything but overly bullish…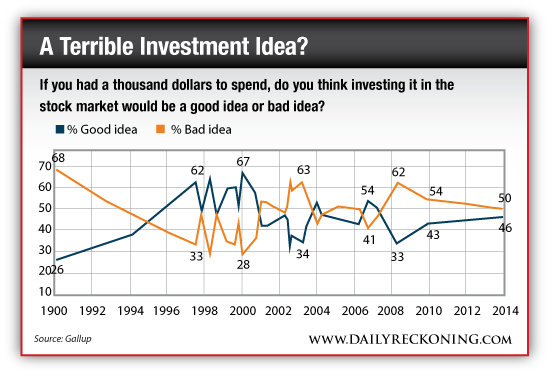 "In January 2000, when the Dow was at a then-record high of 11,500, Americans were much more likely to say investing in the stock market was a good idea than they are today," Gallup explains. "A record-high 67% of Americans that month said investing was a good idea."
And get this— just 54% of Americans say they own stock. That's up just 2% since 2012 reading, which was the lowest in Gallup's 16-years of asking this question. To put this in context, 67% of Americans said they owned stock back during the dot-com boom. Today, we haven't even seen a significant rebound in stock ownership since the financial crisis.
During the first quarter, market pundits and the media have pummeled us with bubble talk, crash warnings and tales of market euphoria. But as you can see, it's clear that we haven't arrived at these extreme levels just yet.
Regards,
Greg Guenthner
for The Daily Reckoning
P.S. Does this mean the market can't take a sharp tumble? Of course not. But you shouldn't be sitting on the sidelines when there's money to be made. Put that $1,000 to work through new trades and watch your money grow. Sign up for The Rude Awakening for FREE today to discover how you can trade stocks for big gains…