Key Ingredients for a Market Correction
For the past few months, trading has been easy.
You buy the dip. You find the strongest names and ride them to new highs. You book gains. Lather, rinse, repeat.
But when it comes to the markets, easy trading doesn't last forever. After the dismal market action we witnessed toward the end of last week, it's becoming apparent that the market isn't going to play nice anymore.
"Just look at the 2.7% drop in the NASDAQ on Friday, and it's easy to see why the love affair with stocks is going through a rough patch," explains my trading buddy Jonas Elmerraji. "The momentum names that have worked so very well over the last 15 months aren't working anymore. They're rolling over and getting hammered."
Tech stocks, popular momentum names and small-caps all took a dive late last week. Now, they're dragging down the rest of the market with them. I don't like the action—not one bit. From what I'm seeing right now, I believe we are in the beginning stages of a significant market pullback.
The key ingredients for a correction are starting to appear. Investors are rotating into safer sectors like utility stocks. It's time for you to get defensive…
Keep in mind, we've done nearly two years without a correction of at least 10% in the S&P 500. Take a look: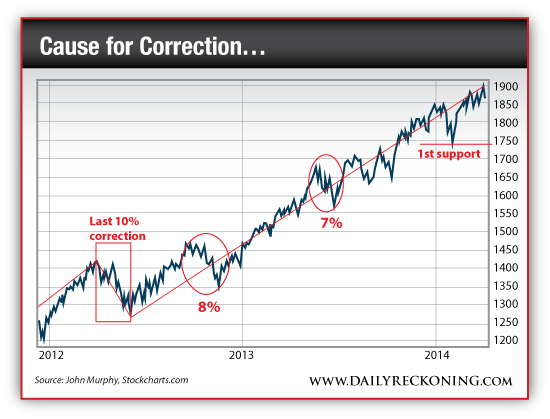 "Two years without a 10% correction is unusual," Murphy writes on his Stockcharts.com blog. "A correction of 8% took place in the autumn of 2012, and a smaller 7% drop in the spring of 2013 (during May and June). An even smaller pullback of 6% took place this January. An S&P 500 drop to its early 2014 February low near 1740 would represent an 8% correction. That's probably the minimum correction we can expect this year."
Market cycles are lining up in support of a correction, too. Stocks are historically weak during a midterm election year (check). And spring is usually the season they begin to falter (double check).
You goal right now is to try to avoid doing anything stupid. Don't load up on a bunch of popular stocks because they "have to bounce here". They don't.
Regards,
Greg Guenthner
for The Daily Reckoning
P.S. You main investing goal right now is to try to avoid doing anything stupid. Don't load up on a bunch of popular stocks because they "have to bounce here". They don't. Sign up for The Rude Awakening for FREE today to discover how you can protect your portfolio from the coming market correction…