Bullish Indicators from a Forgotten Market Sector
If you didn't own emerging market stocks back in 2007, you were considered a moron.
A few years earlier, a Goldman Sachs analyst coined the term "BRIC" to describe the best emerging economies in the world at the time—Brazil, Russia, India and China. Thanks to this catchy bit of marketing genius, every investor wanted a piece of these markets. They all screamed higher in the years leading up to the financial crisis.
However, since 2008, many emerging markets have been a complete disaster. The morons, as it turns out, were those who bought at the height of the frenzy. And since the current bull market kicked into gear five years ago, domestic stocks have trounced their emerging market counterparts.
But all of that could change right now. Emerging markets are catching a bid. While U.S. stocks slide, now could be the perfect time to play a potential emerging markets bounce…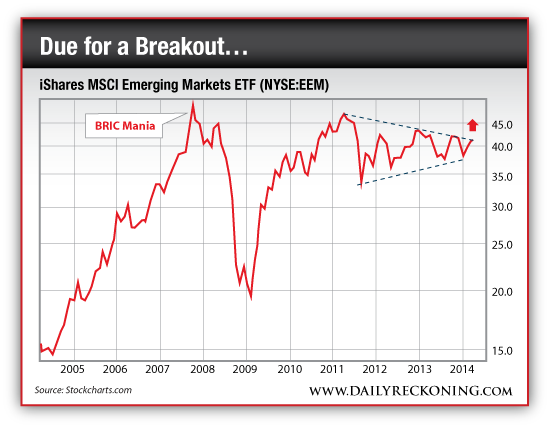 "Emerging market funds were absolutely clobbered in the first quarter. More than $50 billion in outflows from emerging market stock and bond funds illustrated a host of systemic issues for still-developing nations as investors took flight to safer assets," explains Rude researcher Noah Sugarman. "But emerging market funds saw $3.5 billion worth of inflows last week, with equities claiming $2.44 billion, and bonds seeing $1.06 billion. That's a welcome break for EM stock funds in particular, as it snapped a losing streaking that lasted an incredible 22 weeks."
Someone flipped the switch…
The iShares MSCI Emerging Markets ETF (NYSE:EEM) is now down just 1% in 2014. Since its February lows, EEM has shot higher by more than 8%, compared to a 3.5% gain in the S&P 500.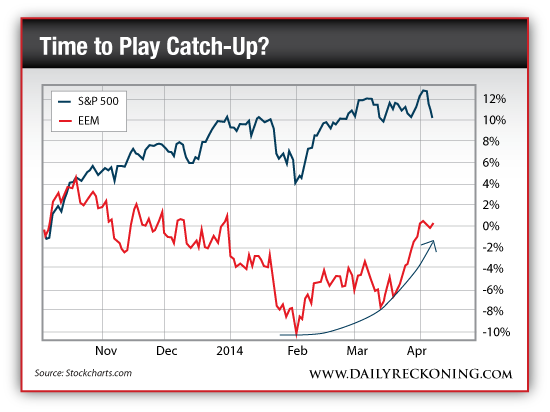 "By themselves, these bullish indicators wouldn't necessarily be indicative of a full-on turnaround, but emerging markets are beginning to show signs of life elsewhere," Noah continues. "Hard-hit currencies like the Indian rupee and the Indonesian rupiah have been seeing multi-month highs against the dollar that have remained largely under the radar. The MSCI emerging market index is also up almost 5% in the last month, too."
Of course, a few weeks of solid performance doesn't negate all of our emerging market concerns. But it's important to remember that many emerging markets have been trading at crisis-level valuations for years.
Markets lead. They're trying to tell us something here. While domestic stocks sag under the weight of falling momentum names, you could have the opportunity to take a shot at an emerging market rebound.
Regards,
Greg Guenthner
for The Daily Reckoning
P.S. While domestic stocks sag under the weight of falling momentum names, you could have the opportunity to take a shot at an emerging market rebound. Sign up for the Rude Awakening for FREE today to check out our new emerging market play…