Get Your Hands on Some Dirty, Sexy Money
One of the market's dirtiest sectors is setting up for a huge payout.
If you get in on this change in trend early enough, you could bank on one of the biggest turnaround plays I've seen in a long, long time…
Everything is falling into place. It's one of (if not the most) hated sectors of the market. These stocks endure backlash from almost everyone—from the government to environmental groups to private citizens.
But even under the weight of pollution concerns, proposed government restrictions and even high-profile bankruptcies, coal companies keeps chugging along.
"The coal industry has a public-relations problem," reports the Wall Street Journal. "Although coal remains the biggest source of fuel for generating electricity in the U.S., its adversaries say it's just too dirty and just too damaging to the environment."
There's the rub…
Nearly half the electricity in the US is generated by coal. Yet most people think the industry is on its way to the morgue. One look at how badly coal names have underperformed the market shows you just how bad sentiment has become.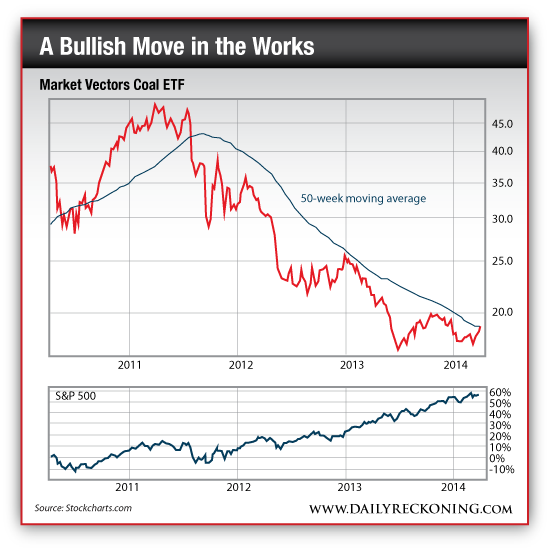 The Market Vectors Coal ETF (NYSE:KOL) hasn't exactly performed well over the past few years. While the S&P 500 has gained more than 55% over the past four years, KOL has dropped more than 60% from its 2011 peak.
What's most important to note on this chart is KOL's 50-week moving average. Once it fell below the 50-week three years ago, it was lights out. And each time it subsequently approached this moving average, it was quickly rejected. In fact, late 2012 was the closest KOL came to breaking out of its sharp downtrend. Until this week, that is…
Finally, coal stocks are beginning to poke above resistance.
KOL is a buy here in the $19 range. It's the perfect low-risk, high-reward setup for you if you're looking to play a potential change in trend. Now that it has bottomed out and posted higher lows, this dirty sector play is set to take off…
Regards,
Greg Guenthner
for The Daily Reckoning
P.S. Now that coal has bottomed out and posted higher lows, this dirty sector play is set to take off. Sign up for the Rude Awakening for FREE today to learn how you can get your hands on even more exclusive turnaround plays…