Crude to the Rescue: How $100 Oil Helps the Market
While fears of a market meltdown ripple across Wall Street, commodities continue to outperform.
In the commodities world, most folks are focused on the big weather plays that continue to rip higher. Coffee, corn and orange juice are all working well this year.
But what about oil?
Crude crossed into triple digits again this week. This morning, a barrel of black gold trades for about $103. And that's good news for the markets…
"We can look at crude oil as a market barometer," explains our own Matt Insley. "The point is simple: If people and foreign governments alike can afford $100-plus oil, the global market is not in dire straits. On the other hand, if the crude market starts to fall, it represents a leading indicator that the economy isn't spinning the cash it needs to survive."
Here's a look at the 10-year price of West Texas Intermediate (WTI) crude oil: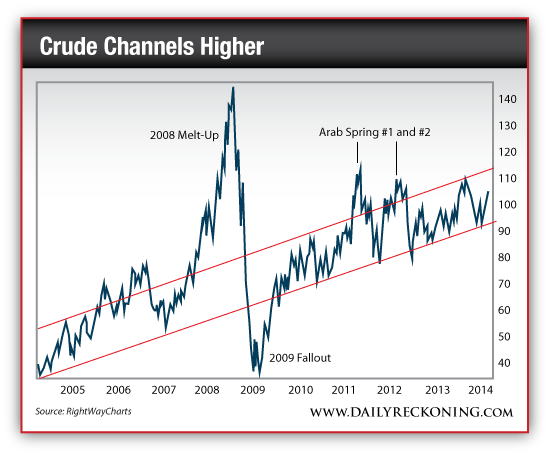 "As you can see from this long-term chart, prices for crude oil have seen a lot of support since the 2009 market fallout. You can also see that we're smack-dab in the middle of crude's long-term trading channel," Matt explains. "In that sense — and the sense that we're still looking at $103 oil at last check — the global market still has plenty of wind in its sails…
"Closer to home, there's even more reason to like an uptrending oil chart. You see, now that the U.S. is producing more crude oil by the day, the country's trade balance is moving in our favor," Matt says. "Along with that, more crude and natural gas production is providing real-world benefits to U.S. manufacturers."
While we're keeping an eye out for a market correction, if crude continues to hold $100 and move higher, Matt sees no reason to fear a major market pullback here…
Regards,
Greg Guenthner
for The Daily Reckoning
P.S. Do you know what the best part about $100 oil is? It's the fact that the U.S. is producing a massive amount of crude these days. There's a huge story brewing here. Sign up for the Rude Awakening for FREE today to learn how you can play this powerful trend…