An Investment Plan for the Growth Stock Fallout
Stocks are plummeting and investors are running scared.
But if you adjust your trading strategies, you'll not only survive– you'll also have plenty of chances to profit.
Enough with the pep talk. Let's take a closer looks at yesterday's stock market disaster…
I would crank out a list of all the stocks that completely fell apart Thursday. But I don't have the space or the patience. Just know that any stock that was roaring higher in January is getting smashed into the pavement this week.
And it doesn't stop there…
I told you Monday we were probably in the beginning stages of a significant market pullback. Now, the midterm election year spring swoon is getting upgraded from a tropical depression to a category five growth stock massacre.
Investors kicked the NASDAQ in the teeth yesterday, dropping the tech-heavy index more than 3%. The damage spread throughout the market, of course. Only 16% of all the stocks trading on major US exchanges ended the day in the green.
More importantly, the NASDAQ and Biotech uptrends are dead on arrival…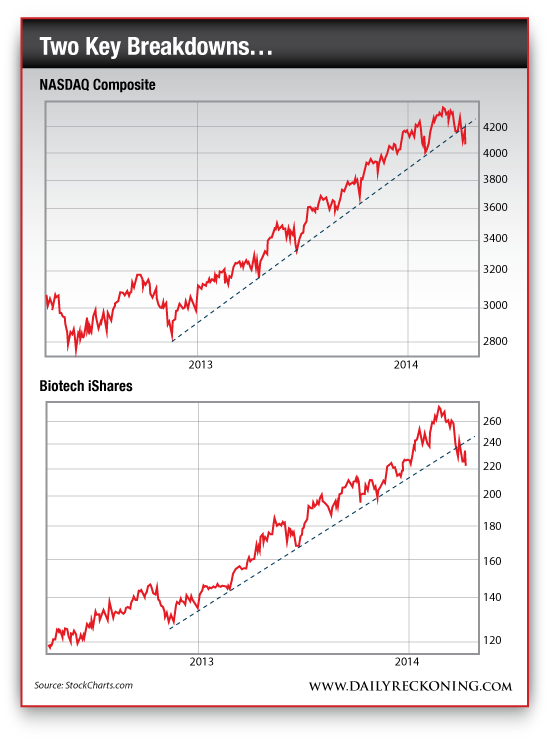 From here, you know the drill. Analysts will scramble to defend their favorite stocks. The crash-callers will jump on TV and being spouting off how the market will soon go to zero. The circus has begun.
Here's another B.S. argument you're going to hear over the next few days: The market is just "rebalancing", they'll say. The corrections we're seeing in the big growth stocks, high-flying momentum names and biotechs won't do as much damage to other areas of the market.
I'm just not buying it. Of course, we're already seeing the selling spread. While the growth stock rout has captured to the attention of many active traders, a lot of folks who don't check the financial pages are just now hearing about some of the market weakness we've been talking about for weeks.
That's right — most investors haven't quite noticed something is wrong with the market just yet. Unless you've been actively investing or trading in social media or biotech, your portfolio probably isn't looking half bad. I can almost guarantee that your great-uncle Carl hasn't sniffed out this growth stock rout. Don't worry. He'll call you early next week to ask what's up with Facebook stock…
Right now, it's important to keep a level head. We've already talked about lightening your exposure to stocks and taking smaller position sizes. Today, you should add one more strategy to your trading arsenal: sell the rips. The buy-the-dips market is finished… for now.
Regards,
Greg Guenthner
for The Daily Reckoning
P.S. Right now, it's important to keep a level head. We've already talked about lightening your exposure to stocks and taking smaller position sizes. Today, you should add one more strategy to your trading arsenal. Sign up for the Rude Awakening for FREE today to learn more…