14 Firms to Watch Based on Friday's Jobs Report
Some important economic information was lost during last week's stock market meltdown.
In fact, Friday's jobs numbers were completely buried under the Nasdaq's rubble. While everyone continues to fret over stocks this morning, let's take a closer look at the forgotten (yet all-important) jobs numbers—and a key industry that stands to benefit from a strengthening trend.
The economy added 192,000 jobs in March on top of the 197,000 jobs gained in February. So far, so good. Even better is the fact that nonfarm private staffing hit 116.087 million – a surge past the previous peak seen in January 2008.
It must be time to rejoice, right? The slow, steady economic recovery is finally coming together.
Or maybe not…
"It turns out that private sector job gains have lagged the growth in adult working age population since 2008," explains Rude researcher Noah Sugarman. "In 2008, there were about 2 working-age adults for every private sector job. Today, that ratio has widened from 2 to 2.13. That means we'd actually to total more than 123 million jobs to really get back to where we were before the recession.
Even more significant is the fact that temporary jobs have far outpaced their permanent counterparts in this recovery…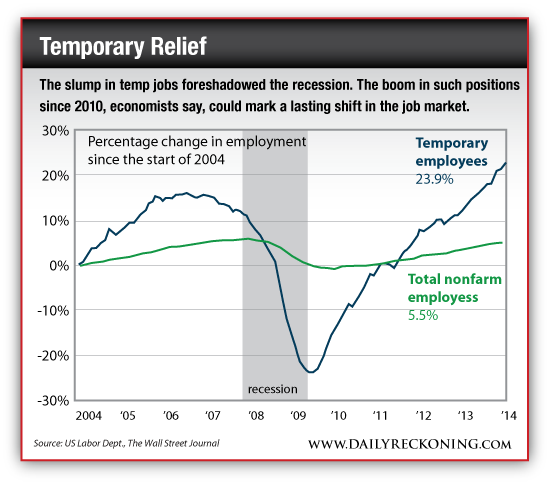 "So maybe job-seekers aren't out of the woods yet. But this slow-growth recovery is perfect for one particular sector of the economy – the staffing industry," Noah continues. "That's right—temp agencies are enjoying a big boost from the labor market's sluggishness.
"In some parts of the country, temp jobs have accounted for more than half, if not all of net job creation since 2009. That's the sweet spot for temp firms that connect the dots in this dodgy environment. Since private payrolls bottomed in early 2012, temp positions have grown by 42%, compared to the overall private jobs growth rate of 8%."
As businesses aren't quite confident enough to make permanent hiring decisions en masse, demand for flexible staffing will likely remain high.
"Numerous forecasts see the labor market remaining in this mild state for at least the next couple of years, with industries like manufacturing, IT and financial services becoming more comfortable with the flexibility that temp work provides," Noah says.
Here's a quick list of staffing and outsourcing firms you can add to your watch list: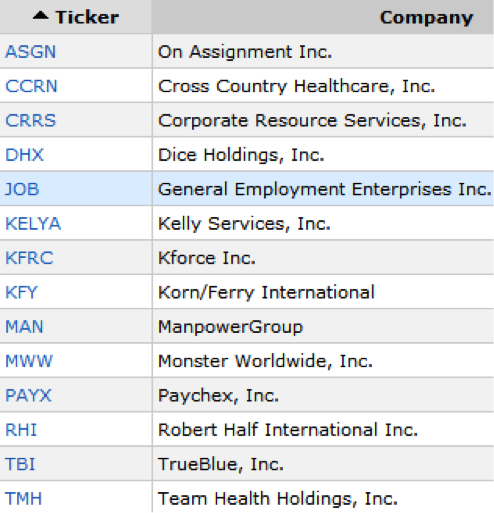 Regards,
Greg Guenthner
for The Daily Reckoning
P.S. The staffing industry has shown investors impressive gains since late 2012. If these stocks can continue their strong performances after a period of consolidation, more gains are in store for alert traders. Sign up for the Rude Awakening for FREE today to see how you can trade these stocks for big gains…