Huge Gains From Smart Money With No Sex Appeal
Momentum is sputtering…
Volatility is creeping back into the picture…
Don't cry about it. And you definitely shouldn't try to catch the falling knives.
There are still plenty of hopeful investors who believe cash will flow back into the popular momentum plays, sending them back to new highs. And hey, they might be right.
But if we look at where the "smart money" is headed, we see a totally different story.
Hedge funds that have driven much of the market's momentum have all but given up on the high-risk names that were popular as recently as a couple months ago.
They've rotated out of growth and into value.
You're better off taking the path of least resistance here. Remember – even though growth stocks are getting crushed, there are plenty of other places to put your money in this market.
At the start of the first quarter, growth stocks and stocks with the highest hedge fund ownership followed very similar paths…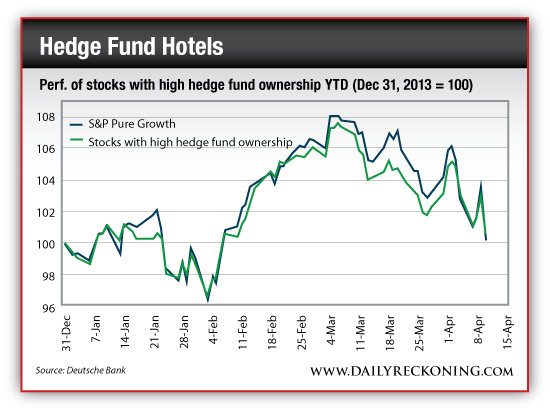 "It's pretty obvious that growth stocks are plummeting as hedge funds head for the exits. And if those funds are pulling their money out, they've got to put the cash somewhere," explains Rude researcher Noah Sugarman. "A quick look at fund positioning shows consumer goods, utilities, and energy stocks are seeing sizable inflows, and those flows are only accelerating."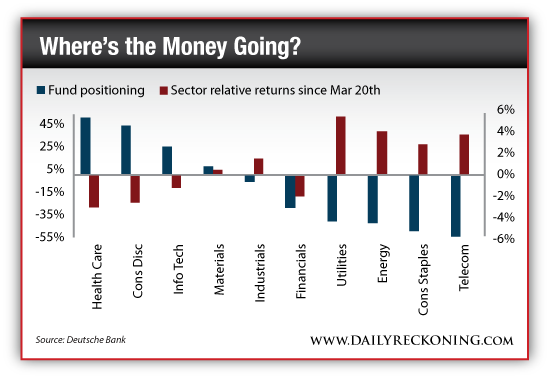 "What sectors like utilities lack in sex appeal, they make up for in safety," Noah continues. "You won't get to enjoy reading about their latest drone acquisition or exciting new app. But there's nothing boring about making money. At this stage of the game, the most important thing is moving away from areas that are seeing capital outflows, and into spaces seeing influxes of capital."
When utilities in particular are seeing this big of a breakout, it's a signal that the market's retreating into its shell and going on the defensive. And sometimes the best offense is a good defense…
Regards,
Greg Guenthner
for The Daily Reckoning
P.S. I've honed in on a red-hot defensive play today that's crushing market. And readers of today's Rude Awakening email edition got a chance to discover just what it is – and how to make a killing because of it. Don't miss another great profit opportunity. Sign up for the Rude Awakening for FREE, right here.