Coming Soon: The Return of Cheap Energy
A new age of cheap energy is upon us.
Nuclear, hydro, and solar can hit the bricks. The future of energy is going low-tech… and dirty.
"It is cheap and simple to extract, ship and burn. It is abundant: proven reserves amount to 109 years of current consumption, reckons BP, a British energy giant. They are mostly in politically stable places. There is a wide choice of dependable sellers," reports The Economist. "Other fuels are beset by state interference and cartels, but in this industry consumers — in heating, power generation and metallurgy — are firmly in charge, keeping prices low. Just as this wonder-fuel once powered the industrial revolution, it now offers the best chance for poor countries wanting to get rich."
If you're a poor investor looking to get rich, you need to pay attention to this important energy trend. When all is said and done, coal's incredible turnaround could make your year…
That's right — filthy coal power is muscling its way back into the picture. And while stocks have suffered over the past several weeks, coal names are starting to show signs of life.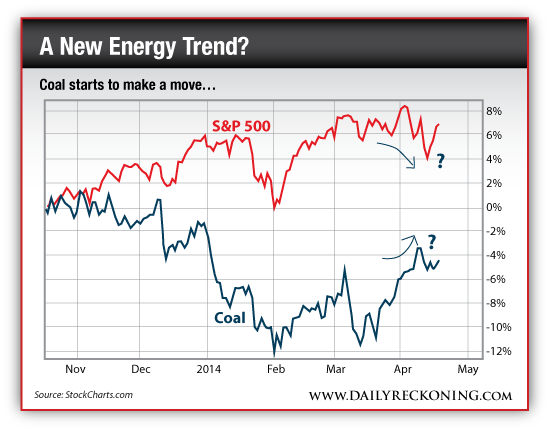 Earlier this month, I showed you how badly coal names have underperformed the market. Coal miner sentiment couldn't get any lower. Now, it's time for names like the Market Vectors Coal ETF (NYSE:KOL) to break out of their long-term downtrends (KOL has dropped more than 60% from its 2011 peak, by the way).
"The International Energy Agency has even predicted that, barring policy changes, coal may rival oil in importance by 2017," continues The Economist. As countries get richer they tend to look for alternatives — China is scrambling to curb its rising consumption. But others, such as India and Africa, are set to take up the slack."
Despite endless negative publicity, coal is prepping for a big run. The time to place your bets is now…
Regards,
Greg Guenthner
for The Daily Reckoning
Ed. Note: If you're a poor investor looking to get rich, you need to pay attention to this important energy trend. When all is said and done, coal's incredible turnaround could make your year. Sign up for the Rude Awakening for FREE today to see how you can play the trend for big gains…