Beware the Barrage of New Tech IPOs
We've been operating in a market overzealous about new tech firms flashing nifty names and exciting stories.
Never mind the fact that they might never reach profitability. Ignore the overly-optimistic business models.
Pay no attention to man behind the curtain…
"That man, to be exact, would be Mr. Venture Capitalist," our own Noah Sugarman says. "He's the one who brought these often-questionable firms their first round of funding. He's the one who helped lead them to the public markets."
Here's the deal…
Almost all internet and software companies that have gone public since 2012 have traded lower in recent weeks. Earlier this month, that median drop stood as high as 11%. The same market that had been so in love with these companies is now giving them the cold shoulder.
"In constant search of the next hot tech name, venture capitalists have managed to inch farther and farther away from profitability — and it could be too late now," Noah continues. "Now mountainous losses are the norm. Finding a recent tech IPO that even has a P/E ratio is like looking for a needle in a haystack."
It was easy enough for the VC cash to flow to tech companies when they were buoyed by overwhelmingly friendly investor sentiment. When momentum was strong, no one really cared.
Now, we're seeing more and more IPOs hit the market priced much lower than expected…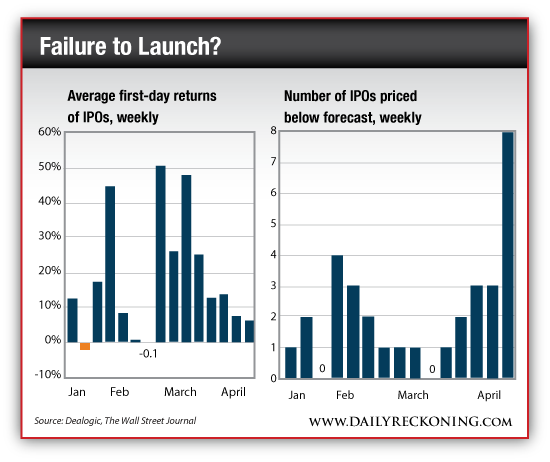 "Cloud storage and file-sharing company 'Box' typifies the crop of offerings we've seen lately," Noah explains. "In 2013, the company lost $169 million on $124 million in revenues. But that didn't get in the way of so-called experts valuing the firm as high as $3 billion."
Need more proof?
Enterprise software company Castlight Health traded as much as 60% over its already above-range IPO price, after first offering shares last month. Mind you, this is a business that's wildly unprofitable with revenue streams that you'd need a microscope to locate. The stock's plummeted since then.
Now that investors have injected a little fear into the markets, they're avoiding the IPOs that were once considered a "sure thing".
Regards,
Greg Guenthner
for The Daily Reckoning
P.S. Fortunately, you don't have to lock yourself in a room with the clinically insane who are buying these IPOs… Today, I gave readers of my Rude Awakening email edition a chance to learn all about a post-earnings trade that could be immensely profitable. Sign up for The Rude Awakening email edition today to take advantage of trades just like this.