What Small-Caps are Saying About the Current "Bubble"
"There is a clear consensus that we are witnessing our second tech bubble in 15 years," Greenlight Capital's David Einhorn said yesterday. "What is uncertain is how much further the bubble can expand, and what might pop it."
Einhorn is the latest high-profile name to hop on the bubble bandwagon. That's just fine with me. Heck, he might be right.
But I'm not sure what you are supposed to do with this information. After all, we don't know if the market will continue to grind higher for one, two or five more years. Einhorn even says so himself.
That's the big problem with declaring bubbles. It really does you no good. Unless you're attempting to measure and time market moves, you're also blowing hot air.
But if you keep watch for negative divergences, you have a much better shot at figuring out big market moves than the latest bubble-busters.
Take small-cap stocks, for instance. Smaller stocks (along with the technology and biotech stocks everyone's so worried about) are lagging the market. The S&P 500 is within spitting distance of new highs. But small-caps have more work to do. The Russell 2000 needs to rise 4.5% before it can test new all-time highs.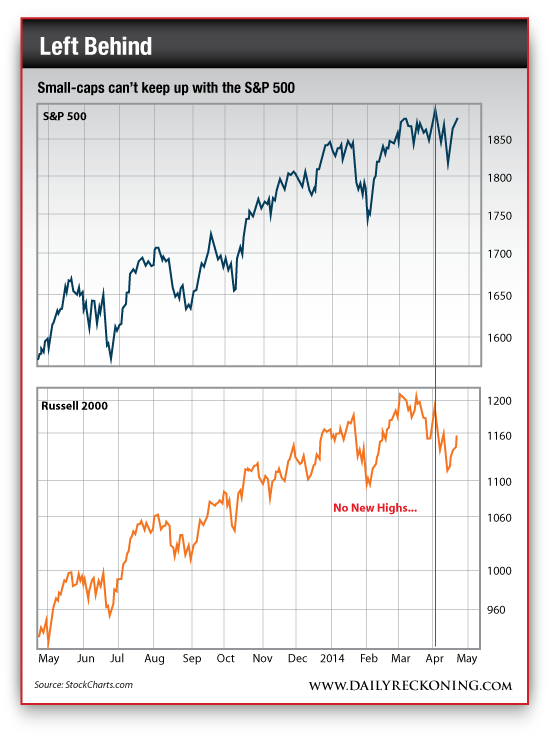 My friend and fellow technician Ari Wald notes that since the beginning of 2013, the new highs in the S&P 500 were met by new highs in the Russell 2000. That's not what's happening right now. As the big stocks recover and make a go at new highs, small-caps are stuck in neutral.
"We are seeing some sluggishness in the Russell 2000," Ari said. "Something to keep an eye out for [is if] this one-month divergence becomes a multi-month divergence. It's much more worrisome."
The small-cap lag is a big tell. We want to see small stocks lead rallies, not fall behind. If small-caps can't get it together, you'll have one more reason to lighten up on stocks as summer approaches.
Regards,
Greg Guenthner
for The Daily Reckoning
P.S. If small stocks continue to sputter, there are ways to play the weakness. Sign up for The Rude Awakening for FREE today to see what stocks you can trade for big gains…