How Discount Brokers Can Boost Your Portfolio
You'd be better off smashing your face repeatedly with a rock than trying to daytrade this market…
But that isn't stopping new "traders" from lining up every morning at 9:30, waiting to get slaughtered by more whipsaw action.
I told you earlier this year that the idiots are coming. The disbelief over last year's broad-market rally is beginning to fade. Now, poorly informed "traders" and investors are ready to start throwing their hard-earned money at the stock market once again.
Now, we're beginning to see even more evidence pointing to a flood of retail investors getting back into stocks.
"Discount brokers TD Ameritrade Holding Corp. and E*Trade Financial Corp. on Wednesday reported big jumps in daily trading volume in the first quarter from the same period a year ago. TD Ameritrade posted a 30% jump to a record 492,000 revenue-generating trades a day, while E*Trade said average daily volume rose 33% to 198,000," reports the Wall Street Journal.
Those are some big numbers—especially when you consider the fact that many discount brokerage stocks didn't recover with the market back when the bull first emerged in 2009. Even factoring in its recent rise, E*Trade stock has lost more than 90% of its value over the past eight years…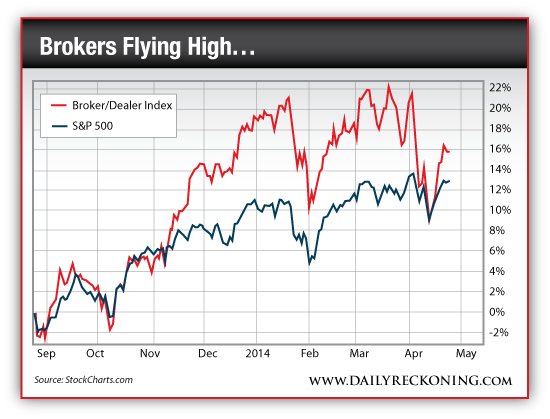 What's even more impressive is the deluge of new traders and investors is continuing as market conditions become more difficult…
"Trading increased despite a choppy market during which the S&P 500-stock index eked out a 1.3% gain for the quarter after logging a 9.9% rise in the last three months of 2013," the Wall Street Journal reminds us.
If you're looking to play this trend, E*Trade Financial Corp. jumped more than 5% yesterday after reporting first quarter earnings. And you can monitor this sector by following the Broker/Dealer Index (XBD).
Regards,
Greg Guenthner
for The Daily Reckoning
P.S. If you're looking to play this trend, E*Trade Financial Corp. jumped more than 5% yesterday after reporting first quarter earnings. Sign up for the Rude Awakening for FREE to learn about the best brokerage stocks you can trade for big gains today…