A Profitable Way to Play the Summer Lull
The summer chop is coming soon to a market near you…
It's that time of year again. We're just a few days away from May. That means the market is about to enter its least productive six months of the year.
Now, I realize many investors don't take market seasonality seriously. But you should. It's the one longer-term timing tool that can help you know when to back up the truck—and when to sit on your hands.
Right now, staying away from aggressive buys is the name of the game. You don't have to look back very far to see why. Just look at last year's performance…
I can't emphasize this enough: 2013 was a huge year for equities. The S&P 500 delivered gains nearing 30% on the year. That's the best performance we've seen from stocks since 1997. Investors waited 16 years for stocks to come close to matching the returns of the dot-com era.
But even as we enjoyed the most accommodating market so far this century, you still could have cashed out in May, unplugged your computer, and hit the beach for the summer without missing a beat. 2013's summer gains were a paltry 2.2%. For four months during the strongest market of the 2000s, the major averages chopped up anyone in its path and entered the fall trading season barely in the green…
In fact, since the post-crisis bull market emerged, just one summer offered impressive returns. That was 2009, right as the market was powering off its lows…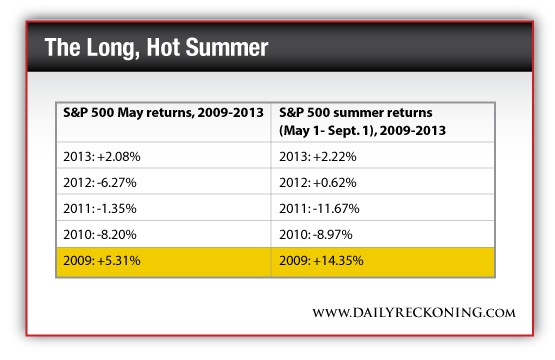 If you exclude 2009 (a disbelief-driven, first phase bull market), the S&P's summer returns over the past five years are downright nasty. 2010 and 2011 delivered sharp drops, while 2012 and 2013 only offered choppy action and small returns.
Need more proof? Even if you pile on more than 60 years of data, the numbers show the summer season is not kind to stocks.
My friend J.C. Parets, president of Eagle Bay Capital, has the numbers: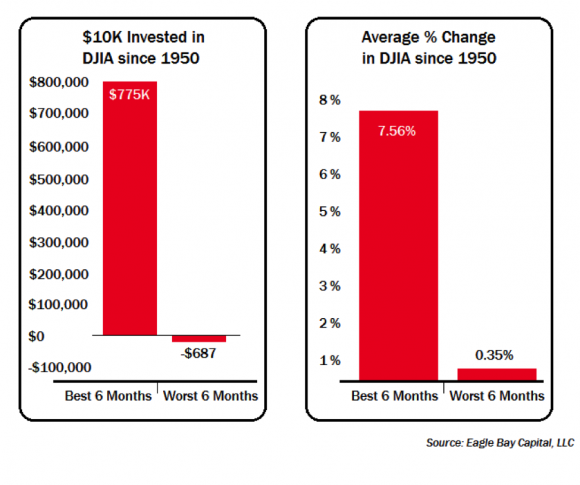 "If you use the Dow Jones Industrial Average and go back to 1950, the statistics are simply staggering," J.C. explains. "Hypothetically, had you invested $10,000 but only owned stocks between November 1st through April each year, on April 30th of 2013 that $10,000 would have been worth $775,055. That's pretty awesome. Now, had you done the exact opposite and purchased the Dow Industrials every year on May 1 and sold on Halloween, you would have actually lost $687 over the past 63 years."
Even if you're a longer-term investor, you can make market seasonality work for you. And you don't have to simply "sell in May and go away". Become a vacation trader. Lighten up on stocks as summer approaches. Reassess your holdings and rotate into the safer sectors that are showing relative strength (energy, anyone?).
Regards,
Greg Guenthner
for The Daily Reckoning
P.S. Even if you're a longer-term investor, you can make market seasonality work for you. And you don't have to simply "sell in May and go away". Sign up for the FREE Rude Awakening email edition, right here, and start discovering the best stocks you can trade for big gains… before, during and after the summer lull.