One Pharma Comeback Play that Screams "Buy" Right Now
Growth stocks continue to quietly drop under the market's calm surface.
Investors are selling social media, technology and biotech at an alarming rate.
However…
According to one of my top sources, a few strong, profitable companies are getting sold off with the biotech lotto picks…
"Some people who don't know what they own are selling top-quality biotech stocks for dirt-cheap prices," writes my colleague Paul Mampilly.
Many folks would hesitate buying this sector since so many stocks associated with drugs or biotech have suffered over the past couple of months. But Paul has an established pharma name in his crosshairs. And it looks like it's finally snapping back to life…
"In many ways, this stock is the quintessential biotech stock," Paul explains." This company is almost single-handedly making drugs that allow patients with AIDS or HIV to live normal lives. And over the last five years, this company has transformed the lives of patients with hepatitis C by finding medicines that are easy to take and that allow them to lead regular lives."
Oh, and it's also cheap and growing, too (if that's your thing).
"This company is growing its earnings at a rate where it's doubling, or going up 100%, every three years," Paul continues. "Normally, when you find a company that's growing earnings per share at this rate, you would pay a P/E ratio of 25 for the company. And if you bought this company at a P/E of 25, I would say you would still be getting it cheap. But this company is selling for a P/E of 11 right now. That's right. I am not joking. A P/E of 11."
The company Paul is so excited about is Gilead Sciences (NASDAQ: GILD). Right now, GILD is repairing the damage from its March swoon. The stock bottomed at $65 and reported strong first quarter earnings. Now, it's breaking higher…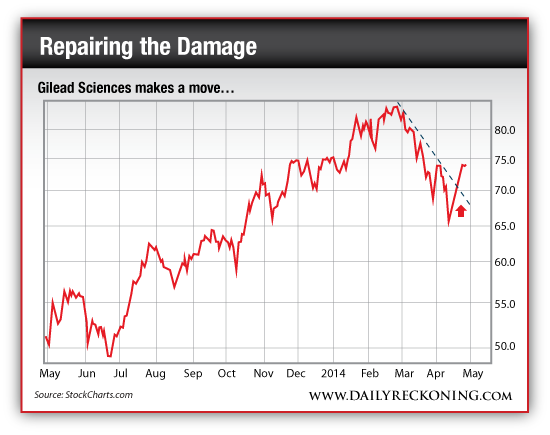 "Because of panic selling we are seeing on Wall Street right now, we are getting buy all this growth dirt-cheap," Paul says.
You can pick up shares of GILD today for a little more than $74. However, Paul's readers were able to snag this trade just above $65.
Regards,
Greg Guenthner
for The Daily Reckoning
P.S. You can pick up shares of GILD today for a little more than $74. However, Paul's readers were able to snag this trade just above $65. Sign up for the Rude Awakening for FREE to see what other stocks you can trade for big gains today…