Wait for the Magic Number to Bet Against Small Caps
Over the past few weeks, I've droned on and on about the weakness in growth stocks.
You're probably sick of my yammering…
But that doesn't change the fact that last year's high-flyers are an incredibly important cross section of the market—especially when it comes to sentiment.
Think about it. Anyone who actively trades stocks has been exposed to some potentially damaging downside action lately. More importantly, what worked in 2013 is not working right now. Anyone who can't (or won't) adjust to changing market conditions will continue to suffer…
"Utilities, consumer staples and energy are leading us higher while anything with a suspect valuation is getting shredded," writes my friend Michael Batnick on his trading blog. "2013's darlings are public enemy No. 1. Google, Solar City, Netflix, Tesla, Amazon and 3D Systems are down an average of 20% year-to-date. This once beloved group of leaders was up an average of 175% in 2013!"
It's not just the growth and tech names that are taking a beating. Small-caps continue to look vulnerable — which has attracted plenty of attention from big-money traders.
"Large speculators such as hedge funds are betting $2.8 billion this month that the Russell 2000 Index will fall. That's the most since 2012 and the highest versus average levels since 2004," Bloomberg reports. "The about-face from a year of bullish wagers coincides with lackluster performance. The gauge of the smallest companies stands 7.1 percent below its 2014 high, trailing the recovery that has put the Standard & Poor's 500 Index within 1.5 percent of a record."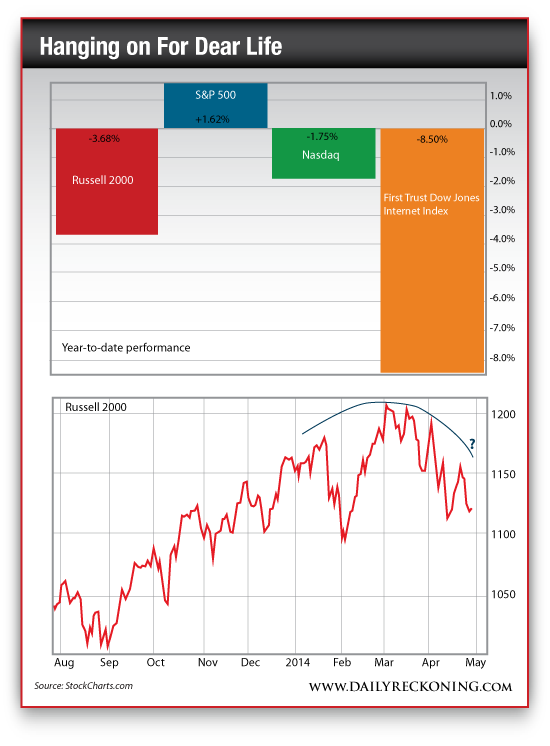 Russell 2000 valuations have also risen above levels from the 1990s tech bubble, Bloomberg says. And while valuation scares aren't necessarily a dire concern (expensive can stay expensive for a long, long time) it does add fuel to the argument that small-cap shares will underperform in 2014. If you're a fund manager looking to play it safe, these are some of the first names you are going to sell. With the flight to "safe" names already underway, opportunities on the short side are beginning to emerge for alert traders.
Regards,
Greg Guenthner
for The Daily Reckoning
P.S. While small-caps appear to be rolling over right now, the Russell is hanging on for dear life. But if you want to really lean hard into a bet against small stocks, wait for a close below 1090. Sign up for the Rude Awakening for FREE to see what other stocks you can trade for big gains today…