A Hidden Way to Play the Housing Rebound
When in doubt, blame the weather.
Analysts and economists have blamed an unusually cold and snowy winter for the relatively poor data we've seen so far this year. Even retailers are blaming slow sales on the snow. It's been the go-to excuse for any company that's needed to explain away a lackluster first quarter.
It might sound lame, but the weather excuse actually makes sense for one sector.
I'm talking about housing. After all, you can't build when there's a foot of snow on the ground and the temps are dipping below zero…
Several weeks ago, I told you the unusually snowy winter would give you another opportunity to pick up housing stocks on the cheap before their next leg higher. And sure enough, after fading for two months, homebuilders once again look like a strong buy.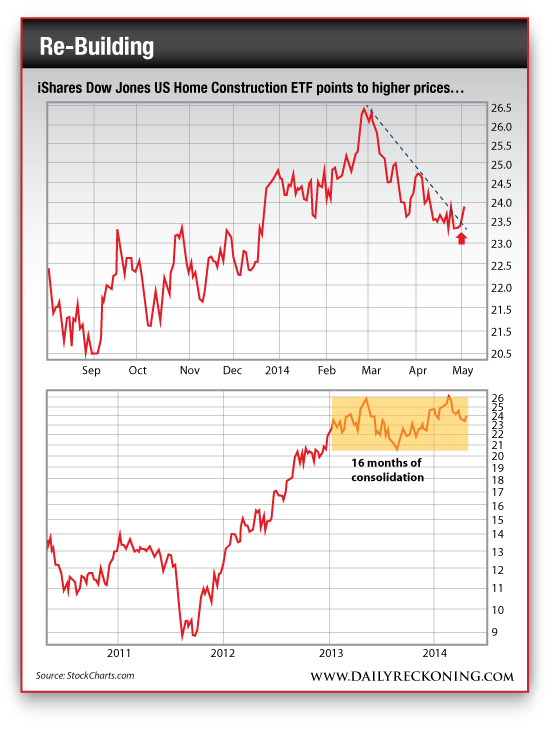 I love how the iShares Dow Jones US Home Construction ETF (NYSE:ITB) is setting up on a couple of different time frames. ITB is finally pushing higher out of its two-month swoon from earlier this year. But that also means that it could make a higher low in the middle of a huge, 16-month consolidation period.
Remember, housing stocks underperformed last year while the market shot higher. If the homebuilders can catch a bid here, I think we could see another massive leg higher like the market gave us in 2012…
Regards,
Greg Guenthner
for The Daily Reckoning
P.S. ITB is one of the easy ways to play the homebuilder trend. But is by no means the only way… And in today's issue of  the Rude Awakening, I gave readers a chance to discover another great play with possibly even more upside potential. Sign up for the Rude Awakening for FREE, right here, to see what other stocks you can trade for big gains today…