Ignore the Hype – Keep IPOs at Arm's Length
Thanks to sizeable drops among growth stocks across the board, the market's push toward new highs this week doesn't have the same feel to it.
Leading the way instead are energy and utility names (a phenomenon I've shared with you over the past several weeks). Investors have forced the market to take its medicine. And like many treatments, there are a few unwanted side effects.
Just look at the market for initial public offerings…
Even though most traders have crossed them off their list of perspective buys, IPOs are still hitting the market. Despite the growth stock fire sale, these companies are venturing onto the exchanges to raise coin.
"Including last week's 3 IPOs, 16 companies in a row have now priced below the midpoint of the original range, the longest streak in at least 15 years," explains Renaissance Capital. "The 16 IPOs in the last three weeks have priced at a 21% average discount to the midpoint and experienced an average first-day return of 0%."
Zero. That's what you get if you try to buy an IPO on its first day in action. Not exactly a stellar trade, eh?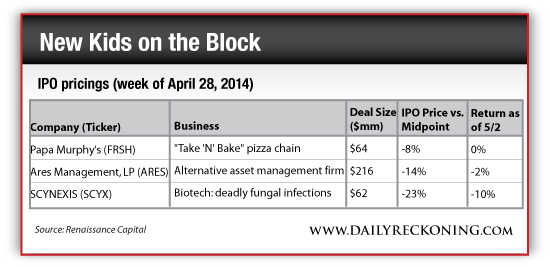 "Typically one of the most active months for IPOs, May will be a litmus test for whether the market has recovered from last month's chilling effect on valuations, but the eight companies that launched IPOs last week serve as a positive sign," Renaissance explains.
That's right. Underwriters will keep pushing these IPOs out the door–whether there's enough excitement to shoot them into the stratosphere the first week on the market or not.
Do yourself a favor and steer clear of these newly issued shares. They're pumped by Wall Street as a hot new trade. But more often than not, you're left holding the bag as the company and insiders cash in…
Still, new tech names are hard to come by over the past month. In fact, only two tech names have launched in the past month, according to Renaissance.
"IPO investors are rightfully cautious, given that tech IPOs this year have averaged 28% gains on their first day of trading but -15% in the aftermarket," Renaissance continues.
Even for gamblers, those aren't great odds…
Regards,
Greg Guenthner
for The Daily Reckoning
P.S. Energy stocks are rocketing higher. Right now, there are plenty of great trades to choose from. Sign up for the Rude Awakening for FREE to see which stocks you can trade for big gains today…