3 Important Reasons to Lighten Up On Stocks
Stocks are stumbling this week. On Monday morning, the S&P 500 was just a few points from all-time highs.
But "Turnaround Tuesday" finally hit a wall. The S&P slid almost 1% on the day — with growth stocks leading us lower.
These facts alone aren't good enough reasons to cash in your 401(k) and stock up on ammo and canned goods. However, more compelling evidence is piling up against stocks. That's why I'm going to show you three key metrics to watch as the month progresses. If these warning signs persist, it might be time to lighten up on stocks…
1. "Smart Money" Wants Out
During the last full week of April, Bank of America Merrill Lynch clients were net sellers of $1.5 billion of US stocks. Now, keep in mind that investors were treated to no major market moves that week. In fact, stocks were relatively flat.
"Net sales were chiefly due to institutional clients, who have now sold stocks for the last five consecutive weeks and are the biggest net sellers year-to-date," Zero Hedge noted. "Net sales by this group last week were their largest since January and the fourth-largest in our data history (since 2008)."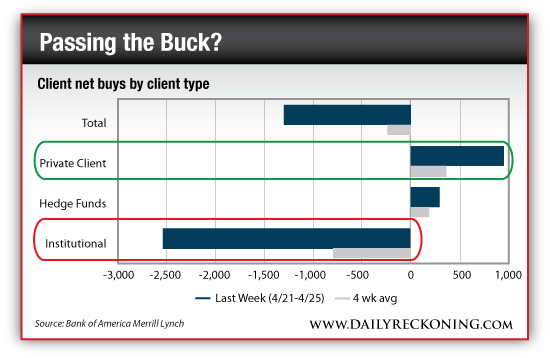 As you can see, institutional selling and private client buying were both way above average. That's not what we want to see in a healthy market…
2. Small-Caps Can't Hang
I've been discussing the possibility of poor small-cap performance since December. And here we are in May and we've seen nothing but small stocks lagging their larger counterparts.
Relative to the large-cap S&P 500, the Russell 2000 small-cap index topped out in January. Its performance has dwindled since. In fact, the Russell fell below its 200-day moving average yesterday for the first time in almost a year. In a strong market, we expect small-caps to lead — not lag.
It's clear that bigger, safer stocks are the place to be right now…
3. The Social Media Meltdown Continues
Twitter stock dropped almost 18% yesterday as insiders were finally allowed to sell. The panic set off a chain reaction in other social media stocks.
Yelp fell 13%.
Pandora lost 9%.
LinkedIn dropped nearly 6%.
Facebook — which actually held up relatively well — still lost 4% on the day.
These are the group of stocks that everyone wanted to own late last year. Now, they're all struggling almost every single day.
Regards,
Greg Guenthner
for The Daily Reckoning
P.S. Regardless of what's going on with Facebook and LinkedIn, I have actually found the perfect social media short play. And in today's issue of The Rude Awakening, I gave readers a chance to discover exactly what company I'm talking about. Just a small perk of being a subscriber to my FREE Rude Awakening email edition. Sign up for FREE, right here, and never miss another great opportunity like this.