Beat the Growth Stock Crash With One Boring Sector
Remember when slow-and-steady won the race?
In the past, Real Estate Investment Trusts have exemplified all things bland. Hardly known for big gains, REITS are usually income paying forays into real estate investing. 2013 proved this point, when the average property-owning REIT returned just 2.5% for the year.
But it's 2014. Now, it pays big to jump on these boring investments as growth stocks continue to crash…
"The MSCI US REIT Index has gained 12.18% on the year, while the S&P can't even muster 2% returns," explains Rude researcher Noah Sugarman. "REITs jumped almost 3% in April alone – compared to the S&P's paltry 0.7% bump."
Talk about turning the tables.
These investments were dismissed even recently in the face of expected rate hikes. But those rates have remained steady so far this year. And instead of a big spike in rates, many analysts are now calling for a measured increase.
But tempered rates are just one of the many fundamental factors lining up for this sector.
REITs have also stepped up to the plate and filled a void left by the banking sector. Those traditional lenders have grown more averse to risky bets like malls and skyscraper construction. That's opened up a sweet spot for alternative funding sources.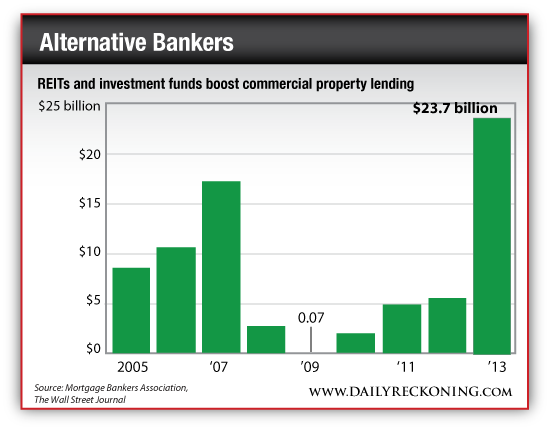 "Going forward, Morgan Stanley sees occupancy levels across several subsectors in an increasingly defined uptrend," Noah continues. "That bodes well for rental growth, and it comes alongside a favorable demand-supply dynamic. Demand isn't as robust as it could be, but the market can still benefit from a dearth of new supply."
That means that even though they've already seen considerable outperformance, plenty of reasons remain to expect more growth in this space for the rest of the year.
Investors are getting the best of both worlds here – Liquid, inflation protected assets that are hedged against market volatility, all while beating the returns that typically draw investors to stocks.
Regards,
Greg Guenthner
for The Daily Reckoning
Ed. Note: While the growth stocks of yesterday continue to sink to new lows, it's time for you to give slow-and-steady money a second look. Sign up for the Rude Awakening for FREE today to see what other stocks you can trade for big gains…