New Flash: Dividends Are Cool Again
Ever since the market began pushing momentum stocks down the stairs, the blue chips are back in the spotlight.
You do remember these stocks, right? The boring, dividend-paying names everyone ignored while the market was ripping higher are bouncing like growth stocks. Investors are scrambling for safety—and the mega-caps are the big winners so far…
"What we are witnessing isn't simply a tumble in high-flying momentum stocks but a rush back into what passes these days for high yields," Reuters explains. "While the sometimes stomach-turning falls in stocks like Twitter – down 23 percent this week – get much of the attention, to understand what is actually happening you ought to pay attention to far more boring names like Procter & Gamble, which carries a healthy yield and has outperformed in recent weeks."
It's not just Procter & Gamble outperforming, either. Most dividend-paying stocks are crushing the market right now…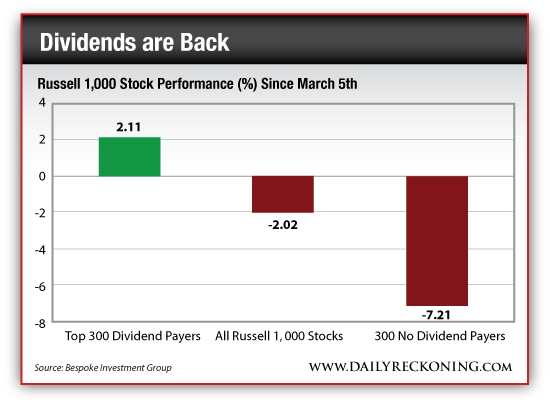 The average stock in the Russell 1,000 (this is the large-cap Russell—not to be confused with the small-cap Russell 2000) is down 2.02% since early March.
Early March was the big turning point for the market where the "high growth/no earnings" trade began to unwind, according to Bespoke Investment Group.
"There are quite a few 'high flyers' that are now down 40-60% from their recent highs, but as these stocks have been falling, low growth companies that pay dividends have been holding up well," Bespoke explains. "In the Russell 1,000, there are 300 stocks in the index that pay no dividend. As shown, these 300 non-dividend payers are down an average of 7.21% since March 5th. Conversely, the 300 highest yielding stocks in the Russell 1,000 are up an average of 2.11% since March 5th. Talk about a tale of two markets."
Two markets, indeed.
Regards,
Greg Guenthner
for The Daily Reckoning
P.S. If you want to stay afloat, you have to ditch the growth names and start thinking safe. Sign up for the Rude Awakening for FREE to see what stocks you can trade for big gains today…