The Market Bounce That No One's Talking About
If you want to make consistent money trading stocks, you have to master market's up and down cycles. There's just no way around it.
You have to know when to buy with both hands—and when to lie back while all the other traders fall into the wood chipper.
"When it comes to trading, a lack of buy signals is often a very big signal in itself: stay the heck away!" explains my trading buddy Jonas Elmerraji.
Rather than dwelling on the painful stock market grind, Jonas has used the past couple of weeks to take a look at some of the interesting undercurrents that no one else is talking about. After all, we are dealing with two very different markets lately: the tumbling momentum stocks and the high-flying blue chips…
"Yes, the S&P 500 is moving sideways," Jonas says. "But individual stocks in the big index are actually faring much worse. And the NASDAQ? Well, the NASDAQ isn't even trying to put on airs about holding its ground sideways – it's down around 6% since the start of March. Move down the food chain, and it gets worse: the Russell 2000 Small-Cap Index is down more than 8% over that same span."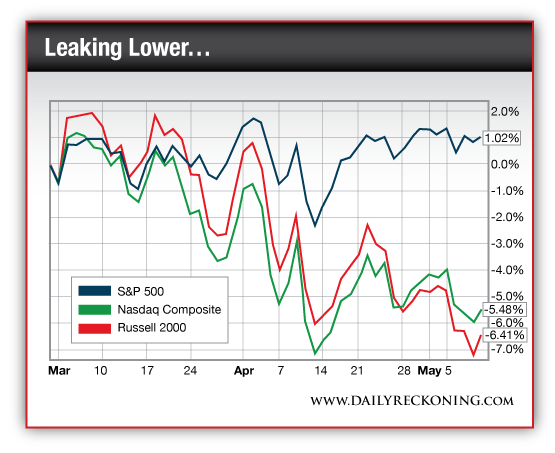 "If you turn on CNBC or read the Wall Street Journal, you've probably heard the shift away from smaller momentum names referred to as a 'flight to quality'. Flights to quality happen when investors get spooked – they're characterized by big chunks of money moving from more speculative investments to the big, boring names," Jonas continues. "And on the surface, it looks like that's what's been going on here. But this hasn't been a flight to quality at all – instead, there's a critical element that's pointing to a whole different story in stocks…
"Instead," he says, "what we're in the middle of now is a 'flight to yield'."
As we showed you Friday, big money is flowing into stocks that pay dividends. In fact, all the income investments are screaming higher—like junk bonds, emerging market debt, highly leveraged utilities, and REITs.
But that doesn't mean you should prepare you eulogy for the out-of-favor small-cap and tech names just yet…
"The deeper correction in indexes like the NASDAQ and the Russell are a very good thing," Jonas concludes. "Corrections are healthy for markets that are in rally mode, and we're talking about markets that have moved very far very fast in the last 12 months. While the tech correction looks pretty brutal on a one-year chart, for instance, zoom out to five years and it looks beautiful."
Regards,
Greg Guenthner
for The Daily Reckoning
P.S. This week could be critical for small-caps. Keep an eye out for a potential bounce soon. Sign up for the Rude Awakening for FREE today to see how you can trade this trend for big gains…