Fast Gains From Riding Train Stocks
Despite Monday's triumphant gains, you might still step on a landmine if you get careless in this market.
Sure, stocks are up on the week. Yet small-caps continue to stumble. While the major indexes held serve yesterday, the small-cap Russell 2000 dropped more than 1% on the day. The tale of two markets continues…
If you know where to look, you can grab onto the precious few stellar sectors that continue to roar higher. One of these sectors is transportation—specifically railroad stocks.
Consider this:
Over the past eight months, the Dow Jones Transportation Index is up more than 22%. The Dow Industrials? They've squeezed out an 8% gain. Now look at the railroad stocks. The Dow Jones US Railroad Index set a new all-time closing high yesterday. The index has absolutely slaughtered the industrials, as well as the S&P 500…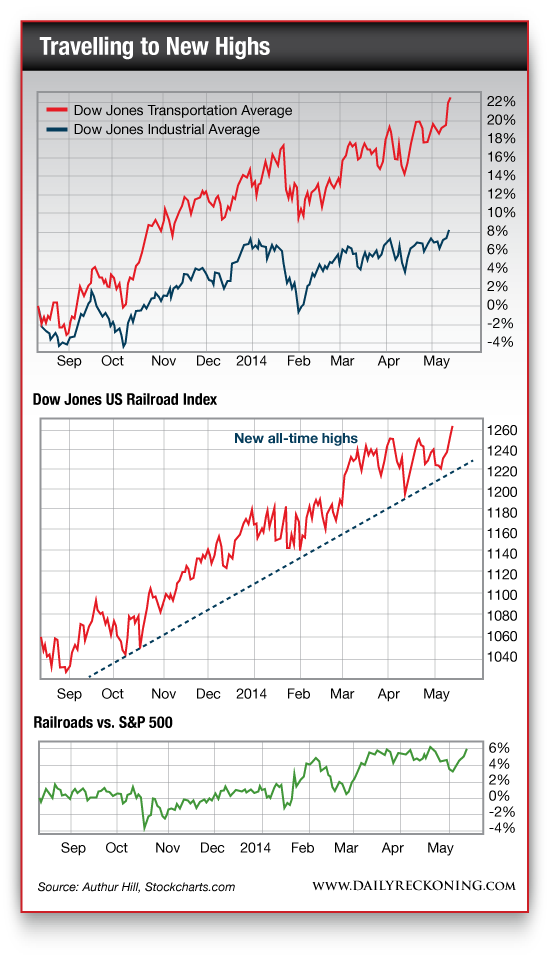 "Railroad stocks may not be as exciting as momentum names, but most are in uptrends and trading near 52-week highs," comments Arthur Hill on his Stockcharts.com blog. "Regardless of the pattern, the break to new highs is clearly bullish and this is one of the strongest industry groups in the market right now."
See? The market's not all bad right now. In fact, if you threw a dart at a list of railroad stocks, you'd probably hit a winner.
How easy is that?
Regards,
Greg Guenthner
for The Daily Reckoning
P.S. Just imagine all those traders out there scrambling to scalp a few pennies daytrading a potential biotech comeback. They're nuts — especially when you consider that ripe setups like railroads are available for the taking. Sign up for the Rude Awakening for FREE today to see how you can trade this trend for big gains…