The Most Profitable Way to Play a Summer Correction
There's no denying it– yesterday's price action was ugly.
After a rather bullish start to the week, stocks tumbled. The fall was led by small-caps, which continue to lag the market in a major way. That's not exactly bullish heading into the summer.
The crash-callers will be out in full force this week. That's fine. Let them have their fun. But back in reality, I don't think it's time to run and hide from stocks just yet. In fact, if you take an objective view of the market, you'll see that a summer correction might be just what the doctor ordered…
Here's what you need to know…
The S&P is quickly approaching a record run. My fellow technician Charlie Bilello from Pension Partners has kept track of the winning streak. All told, the S&P 500 has gone 372 trading days without a cross below the 200-day moving average. The record over the past 50 years, Charlie says, is 385 days– which occurred in 1995-96.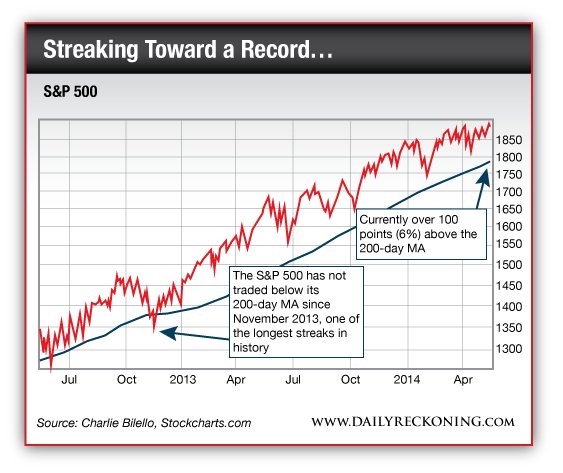 As you can see, a quick 6% drop would bring the S&P 500 back to its longer-term moving average. But if we look back to the last time the S&P wound down below its 200-day moving average after a huge run, the pullback was a little bigger…
1996 saw an 11% correction from May high to July low to end the 200-day streak, Charlie reminds us. And from my vantage point, an 11% correction beginning sometime this summer would be very healthy for this market. Also, it's important to keep in mind that the 11% pullback in 1996 resolved with a huge year-end rally.
Regards,
Greg Guenthner
for The Daily Reckoning
P.S. If you rotate into the "safe", yield-producing sectors that are working right now, you should have no trouble weathering whatever the market throws your way. Sign up for the Rude Awakening for FREE to see how you can trade this trend for big gains today…