The Market Rewards Investors Who Brave the Downturn
"Investors are losing their nerve in the stock market amid selling that has sent some industries down the most since 2008," Bloomberg reports early this morning.
In the least-shocking market story of the year, Bloomberg tells us what we already know: a vast majority of investors approach stocks like scared little children.
According to the report, Investors have pulled about $10 billion from funds that buy U.S. equity this month, putting us on track for the biggest outflows since August. They're quickly rebuilding the wall of worry that crumbled late last year– brick by brick.
You know the drill by now. Despite sitting just a few ticks from their highs, stocks aren't looking so hot. Small-caps are weak. Social stocks are dead in the water. In all, you've endured a difficult trading environment since early March.
But if you can endure a few more months of sideways or downside action, the market could reward you with a stellar buying opportunity. Look no further than the mid-term election year pattern to see how the setup will look…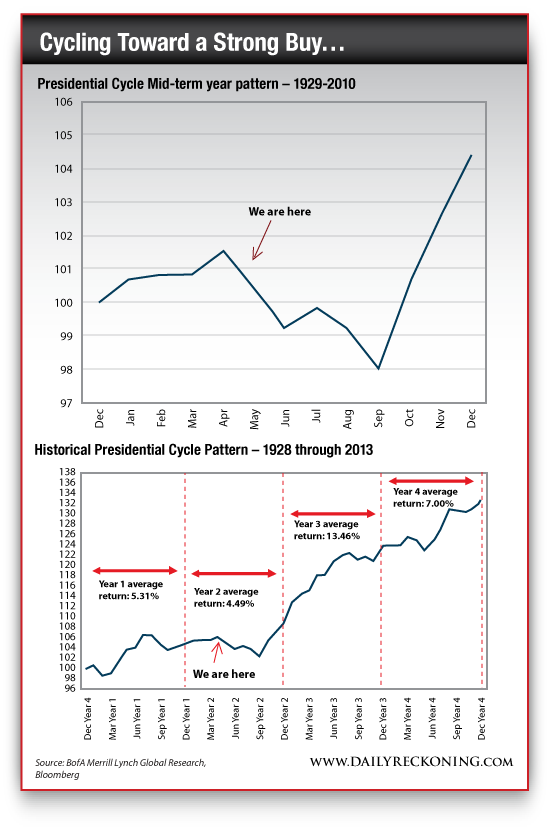 In the four-year presidential cycle, the midterm election year is typically the weakest. And so far, the market is following this roadmap. Many stocks are already pulling back as summer approaches.
"Using data going back to 1928, the midterm year is the only year of this 4-year cycle with an average intra-year decline of 20%," explains a Bank of America Merrill Lynch Global Research report. "An intra-year decline of 20% or more occurs 43% of the time in the midterm year. This compares to an average risk of a 20%+ pullback in any given year going back to 1928 of 27%."
Not exactly a bullish scenario…
But look what happens in the fall. Once the market bottoms in the midterm year, you typically see the powerful thrust higher. Just as skittish investors start selling, opportunity knocks.
Regards,
Greg Guenthner
for The Daily Reckoning
P.S. You can survive a steeper correction this summer by shifting your focus to the mega-cap stocks that are holding up so well. Sign up for the Rude Awakening for FREE to see how you can trade this trend for big gains today…