Last Year's Big Market Winner Falls Off a Cliff in 2014
Attention, Kmart shoppers…
Run — don't walk — to the nearest exit. Retail stocks across the board are falling into the meat grinder. If you remain exposed to this area of the market much longer, your portfolio is going to suffer.
Don't believe me? Just check out your favorite (or least favorite) retailer. Its share price has probably fallen off a cliff over the past week or two.
Investors are hitting the popular, middle-of-the-road and discount retailers the hardest. Walmart cratered after reporting a lackluster first quarter earlier this week. Dick's Sporting Goods fell 18% after it warned of weak sales. Staples dropped more than 12% after missing analyst forecasts. Get the picture?
One look at the SPDR S&P Retail Index (NYSE:XRT) tells the story. While the S&P has fought for a small gain in 2014, this basket of retail names is off by nearly 7%…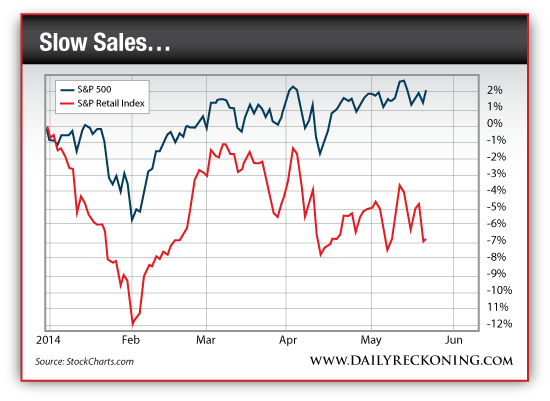 Retailers were some of the biggest winners during last year's powerful rally. That's not the case in 2014. If your strategy is to ride the strongest stocks on the market, you won't want to look at retail. Well, most retail, that is…
You see, there is one group of retail stocks that are bucking the downtrend. These are the higher-end brands. While Target and Walmart struggle with weak sales, the expensive retailers are actually beating expectations.
Regards,
Greg Guenthner
for The Daily Reckoning
P.S. I have a favorite high-end retailer that's hitting new all-time highs as I type. It's one of the market's strongest performers right now. And it's also beginning to look ripe for a trade. In today's issue of The Rude Awakening, I gave readers a chance to discover this high-end retailer for themselves – and all the potential profits that come with it. It's just a small benefit of being a free subscriber to the Rude Awakening email edition… and it's not just today. These opportunities are baked in to every single issue. So you are constantly provided with expert analysis and real, actionable profit opportunities. Don't miss out on your chance at huge gains. Sign up for The Rude Awakening, for FREE, right here.