Watch Out for One Quiet Correction Signal
One important indicator is whispering that a market correction is on the horizon.
If you pay close attention, you could avoid damaging losses–and potentially even ride out any downside move we get over the next few months…
It all comes down to margin debt.
April NYSE margin debt numbers were released late this week. For the second straight month, margin debt has dropped. It's down to $437.2 billion (pocket change!)– more than a 6% drop from its record highs earlier this year.
This story is quickly making the rounds throughout the financial media. Everyone's trying to figure out what the heck it all means. Even the Wall Street Journal took a stab at it…
"Falling margin debt over the past two months coincides with a drop in many of the speculative corners of the market," reports the Journal's Moneybeat blog. "The small-cap Russell 2000 briefly hit correction territory earlier this month on an intraday basis. Social media, Internet and biotech stocks have been hit hard since early March."
But while some folks are relieved to see some deleveraging, others are concerned that shrinking margin debt could be leading up to a major market correction…
"The astonishing surge in leverage in late 1999 peaked in March 2000, the same month that the S&P 500 hit its all-time daily high, although the highest monthly close for that year was five months later in August. A similar surge began in 2006, peaking in July 2007, three months before the market peak," writes Doug Short, the creator of today's chart. "The latest data puts margin debt in its second month of decline following a record high."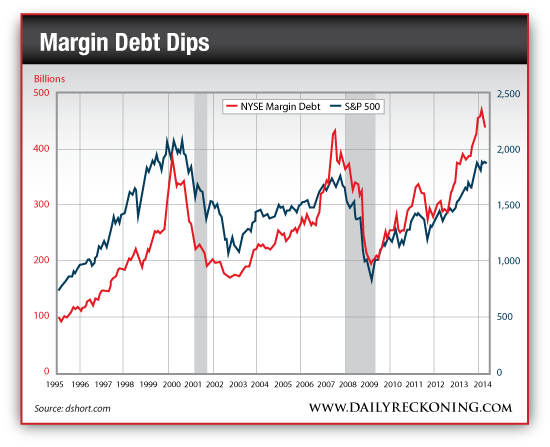 Remember how everyone has been whining about margin debt ramping up over the past 18 months? That wasn't an issue. Margin debt rises in a bull market. But as you can see from the chart, margin debt has rolled over ahead of market corrections in the past. So even though we have only seen margin debt drop for two months, it's a good reason to begin pumping the brakes.
Regards,
Greg Guenthner
for The Daily Reckoning
P.S. No matter what anyone says, price will ultimately determine whether its time for us to take our cash and run from this market. But right now, with the major averages near their highs, you can stick to the big, dividend-paying stocks that are dominating the market. In today's issue of The Rude Awakening, I gave readers a few chances to make big gains no matter what the market does. Don't miss out on any of this great opportunities, baked into every issue. Sign up for FREE, right here.