Smart Plays On a Critical Small Stock Signal
If you want a big-picture view of the market's performance, you have to think small. This week, small stocks are setting up to deliver a critical market signal for anyone smart enough to pay attention…
As far as I'm concerned, the Russell 2000 small-cap index continues to hold the title of "most important market barometer" heading into this shortened trading week. You've read my concerns over small-caps sagging for weeks now. But this week, we really get to see what these tiny stocks are made of…
The Russell 2000 has rallied more than 2.5% over the past three trading days. But it's not out of the woods just yet. In fact, we're still looking at a 9% decline from its March highs. Even with the small-cap recovery that began late last week, the large-cap Russell 1000 is firmly in the lead as it wanders sideways this month.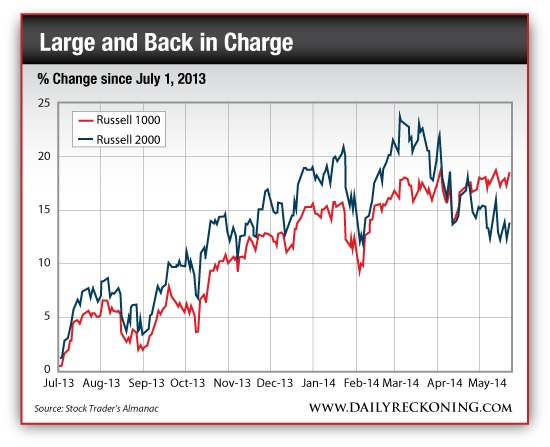 "Low market volatility and a sagging Russell 2000 have been cause of concern recently," explains Christopher Mistal form Stock Trader's Almanac. "The decline in volatility is reminiscent of the latter stages of the last bull market that ended in 2007 and small-cap stocks are generally considered more sensitive to local economic conditions. However, small-caps are actually behaving in a usual manner."
The "usual" manner Mistal is referring to is how smaller stocks tend to outperform their larger counterparts from December until late May. However, this year, small stocks peaked relative to large-caps a little early…
This week in particular will give us some very important clues that could determine where this crazy market is headed this summer. If the Russell 2000 can build on last week's bounce, we could see it break out of its three-month downtrend and help buoy the market. But if last week's showing turns out to be nothing more than a dead-cat bounce, another test of recent lows could materialize very, very soon.
Regards,
Greg Guenthner
for The Daily Reckoning
P.S. It's important to keep an open mind as we wrap up the trading month. The next few days could determine whether it's safe to get long into June — or stay defensive. Sign up for the Rude Awakening for FREE today to see how you can trade the trends for big gains…