Ditch Your Gold for Greenbacks
Gold can't catch a bid. And the U.S. Dollar is staging a stealth rally that could send it sprinting toward its 2013 highs.
Welcome to trading in 2014…
I told you a couple of weeks ago that if we see gold slip below $1,280, a quick tumble back to its lows near $1,200 was a very real possibility. I also said you should avoid the miners and the metal due to their downright terrible behavior.
Well, everything began to unravel quickly earlier this week. Gold dropped nearly $30 Tuesday to $1,263. That's far below the $1,280 threshold. Traders took notice—and gold hasn't even enjoyed a relief rally since the selloff.
As of early this morning, gold futures are just above 5% above their December lows just below $1,200…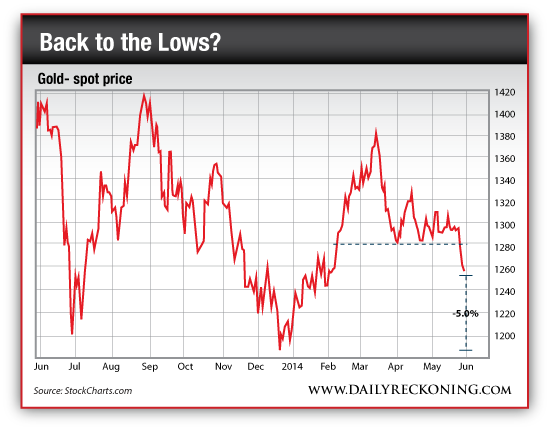 Gold's down almost another $5 as I type. It's finished lower every single day this week. While a relief rally isn't out of the question, I suspect it continues to push lower…
Meanwhile, the US Dollar Index is putting together a stealth rally that could quickly send it back above its January highs.
After leaking lower, greenbacks are beginning to make a move. The Dollar Index shot off its early May lows and has now trended higher for nearly three weeks…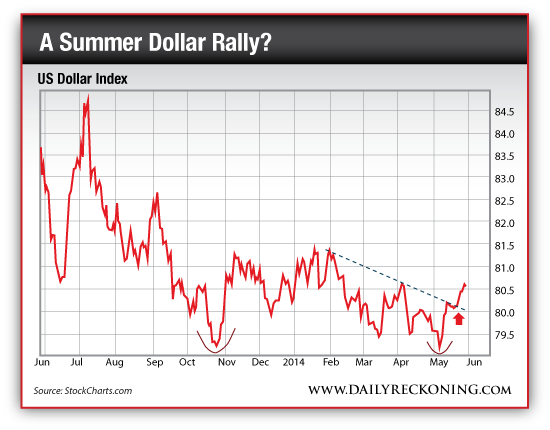 Check out how the Dollar Index found a bottom at $79—the same place it bottomed in late October. That's a solid foundation for a move higher…
Just a few weeks ago, many analysts were talking about a potential breakdown in the dollar. But things aren't always as they first appear. Many times, the best trades are the ones you least expect.
The charts are telling us its time to trade your gold for greenbacks. That could make for a very interesting summer…
Regards,
Greg Guenthner
for The Rude Awakening
P.S. The charts are telling us its time to trade your gold for greenbacks. That could make for a very interesting summer. Sign up for the Rude Awakening for FREE today to see how you can trade the trends for big gains…