Emerging Markets Pile on the Gains
Stagnant investments got you down?
You'd be doing a lot better this year if you weren't stuck stateside.
Select emerging markets are taking U.S. stocks to the woodshed. I've been beating the emerging markets drum since late last year— even as cash continued to disappear from emerging market funds and analysts and investors alike left them for dead.
But that's all about to change.
"Money is flowing back into emerging markets at the fastest pace in more than a year," reports the Wall Street Journal. "Mutual and exchange-traded funds focused on emerging markets added a net $13.2 billion in April and May, according to data from EPFR Global through May 26. That is the biggest two-month rise since February and March 2013, and follows 10 straight months of net selling."
So much for the "fragile five" and the death of the BRICs…
In case you forgot, "fragile five" is the latest emerging markets buzzword Wall Street has shoved down our throats. The slogan, coined by Morgan Stanley last year, is the antithesis of the bullish BRIC talk you endured ten years ago. It warns of rocky times ahead for the "fragile five" economies of Brazil, India, Indonesia, South Africa and Turkey due to inflation and growth concerns.
But not all of these markets are cratering. In fact, a couple of them are stomping all over the S&P 500's puny gains so far this year.
After a huge breakout in March, India's market is blasting into the stratosphere. It's up almost 28% year-to date. Indonesia's gains for 2014 clock in at more than 20%. That should get your contrarian senses tingling.
India and Indonesia aren't the only two markets leapfrogging the S&P 500. You can also add Thailand to the list– military coup included at no additional cost. Despite political unrest, Thailand is up nearly 11% on the year.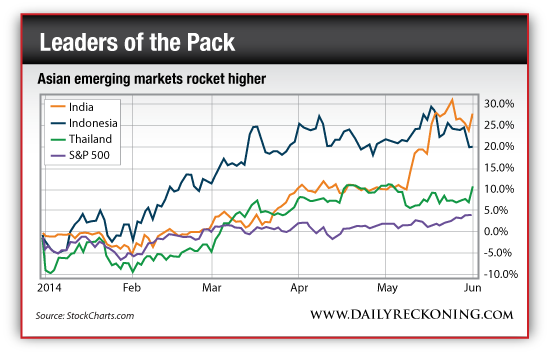 There are a few funds you can scoop up if you're looking to play this trend. Check out the Wisdom Tree India Earnings Fund (NYSE:EPI) and the iShares MSCI Indonesia Investable Market Index Fund (NYSE:EIDO). Both of these funds give you easy exposure to India and Indonesia without ever having to leave your couch…
If you're looking for a market that hasn't sprinted too far ahead so far this year, consider the iShares MSCI Thailand Investable Market Index Fund (NYSE:THD). Right now, this chart presents the strongest buying opportunity.
Regards,
Greg Guenthner
for The Daily Reckoning
P.S. In today's full issue, I reveal two of my favorite hidden emerging market plays. Sign up for the Rude Awakening for FREE today to see how you can trade these trends for huge gains…