Obama's War on Coal is Just Lip Service
The Economist calls it Obama's "green gamble".
However, a more accurate description would be a "war on coal".
Back in April, I told you coal was still the fuel of the future (and I'm still going through all of your hate mail, by the way). But Uncle Sam doesn't agree. In fact, the government is stepping up its anti-coal rhetoric. Just this week, the head of the federal Environmental Protection Agency announced that power plants must reduce their emissions of carbon dioxide by 30% by 2030.
But does that mean dirty coal is about to go the way of the dodo bird? Hardly.
"Under its models the EPA predicts that coal will still account for around 30% of American electricity production in 2030 (it is around 39% today)," The Economist explains. "Such forecasting is a tricky business, given the number of moving parts and the economic, technological and regulatory uncertainties."
Right. Like the fact that emissions are already falling thanks to a major uptick in the use of natural gas from our booming shale operations. That, and a potential 9% reduction in the use of coal over the next 16 years won't exactly decimate the coal industry…
So maybe all of this "war on coal" business is just talk.
"If Obama wants to dethrone the coal industry so badly, why on earth is the Energy Department rushing to approve natural gas export permits?" our own Matt Insley chimes in. "Seems like in a world where you want to transition from coal, it's silly to take actions that could increase the price of the substitute fuel, in this case natural gas. Weird."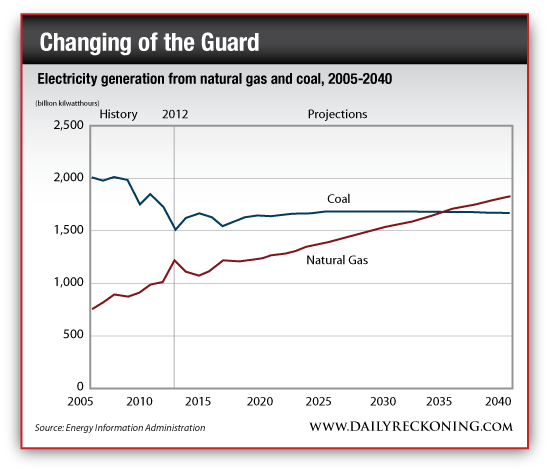 It's clear that even though natural gas is a booming industry, coal is here to stay for the foreseeable future.
But coal stocks have suffered over the past several weeks. After showing signs of life earlier this year, most coal names plummeted in May. Thanks to the war on coal, sentiment is about as low as it can get…
Regards,
Greg Guenthner
for The Daily Reckoning
P.S. I don't think this trend can last forever. And in today's issue of The Rude Awakening email edition, I showed readers one ETF that is once again attempting a comeback move. In fact, the ETF I shared with them has traded higher every single day this week, and eventually could see a breakout that takes everyone by surprise. Don't miss out on great tips like this, and other great opportunities to discover real, actionable stock picks. Sign up for The Rude Awakening email edition, for FREE, right here.