2 Ways to Profit as Your Life Becomes More Automated
Round two of the "internet of things" freak out is officially underway.
Over the past 48 hours, the media have bombarded you with alarming stories of once-harmless household appliances that are now plotting to destroy your life.
Consider the following headline:
Even Toilets Aren't Safe as Hackers Target Home Devices
See what I mean?
"In coming years, your smartphone will be able to lock your house, turn on the air conditioning, check whether the milk is out of date, or even heat up your iron," reads the Bloomberg article. "Great news, except that all that convenience could also let criminals open your doors, spy on your family or drive your connected car to their lair."
Another report details how big data is looking to mine smart meters for information on everything from how often you do laundry to what you watch on TV…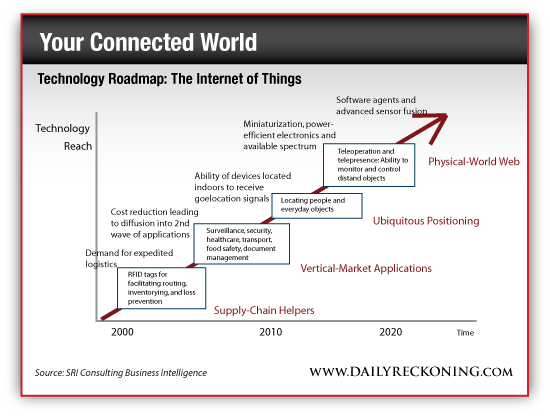 Sure, it's a little terrifying. But it's inevitable. Soon, your home will know all about you. Every appliance and device will be linked to the internet. And while this might be a scary proposition for some, there are ways your can profit from the technological madness…
We told you earlier this year that Google will be the driving force behind the "internet of things" movement. Speculation took off in January after Google shelled out a cool $3.2 billion to acquire "smart" home products company Nest Labs. But Nest Labs is just one piece of a much larger picture. While home automation isn't exactly new, it is steadily becoming accessible. And as this type of automation tech becomes more budget-friendly, companies like Google will want to capitalize on the upswing in demand.
Regards,
Greg Guenthner
for The Daily Reckoning
P.S. You have two ways to play this trend. You can latch onto companies like Google who are playing a huge role in the development of these connected devices. Or you can find the security firms who will take steps to make these endless connected devices secure. Your connected (and potentially hacked) world is quickly becoming a reality. Now's the time to begin thinking about how to capitalize on it. Sign up for my FREE Rude Awakening email edition to discover real, actionable ways to profit from the continued "internet of things."