One Sector Takes a Huge Hit from Rising Oil Prices
Just a few weeks ago, our old buddy Vlad Putin and Russians were going to sink the market thanks to their reckless invasion of the Ukraine.
How quickly things change…
Almost overnight, the wall of worry has shifted back to the Middle East. Now we have a full moon, Friday the 13th, and a brand new group of terrorists called ISIS ripping through Iraq at a terrifying pace. If that's not enough for you, drones are also in the mix. The Wall Street Journal is reporting that the U.S. is secretly flying drones over Iraq to collect counterintelligence on the insurgents.
Of course, the most important market headline to surface out of this mess is the spike we're now seeing in oil. Crude has been sneaking higher since it broke above $100 in early May. Now, just a month later, light crude is posting new year-to-date highs and is just a few bucks shy of its summer 2013 highs near $112.
Crude's spike isn't just an isolated market event. In fact, it has some pretty far-reaching implications. Airline stocks – which have been some of the best performing names on the market so far this year—took a huge hit as oil spiked. The Dow Jones U.S. Airlines Index dropped 5% yesterday alone. The airlines had been up as much as 45% on the year. Today, they're up 32% year-to-date.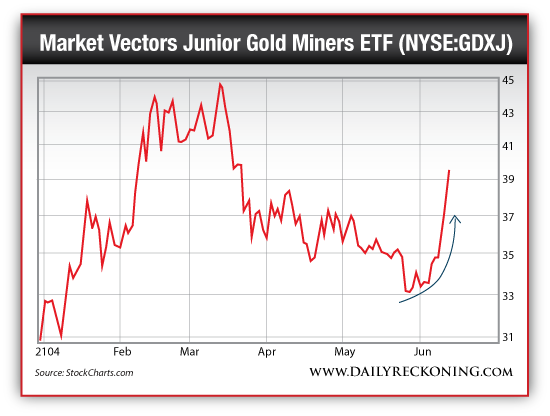 Regards,
Greg Guenthner
for The Daily Reckoning
Ed. Note: The red-hot Dow Jones Transportation index also suffered a huge hit, dropping nearly 2% yesterday. If you've been playing the transports (or more specifically, airline stocks) you'll want to consider booking profits now. Sign up for the Rude Awakening for FREE today to see how you can trade these trends for huge gains…