Where You'll Find the Market's Most Explosive Stocks
Trading momentum stocks can be incredibly difficult.
One minute, you're making outrageous gains. Then, in less than a blink of an eye, the market turns and your favorite momentum plays stop working. Even worse, if you don't get out in time, you stand to lose every cent you made on the run higher… maybe more.
But there's a way you can monitor momentum stocks. If you know what to watch, you can use the signals in advance to buy momentum names at the right time — and sell before other traders ditch these stocks and drive down prices.
The trick is finding the hot sector or industry that's leading the pack. Since early 2013, I've contended that 3D printing stocks have been "the tell". These stocks were among the first to shoot higher in January 2013 as the market began its huge push higher. And 3D stocks were also the first popular momentum names to signal trouble ahead at the start of this year. They topped out in early January, social media and other momentum shares don't peak until early March.
3D's performance so far this year has flat-out stunk. 3D Systems Corp. (NYSE:DDD) has lost nearly 47% year-to-date.
However, if DDD and other 3D printers can catch a bid, it's possible that other former momentum stocks also get their acts together…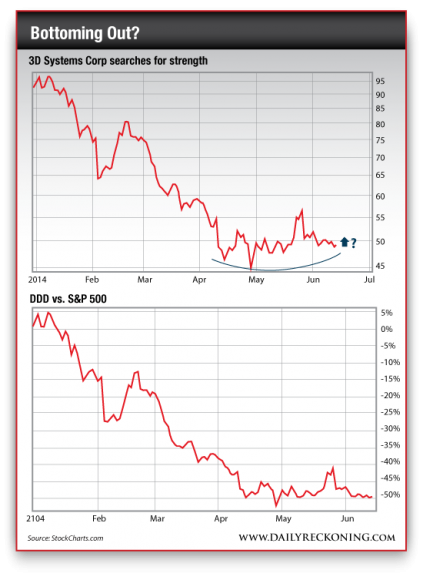 Despite the dreadful year DDD has endured, shares could be close to bottoming out. Heck, the stock even caught an analyst upgrade this morning (I don't really care one way or another about upgrades, but it could spark a little buying today once the bell rings).
Aside from a fake-out move that quickly faded, shares of DDD have been stuck just below $50 for well over six weeks now. While that might seem boring to you, it's actually a good thing. It looks to me as if DDD is slowly building a new base here…
Regards,
Greg Guenthner
for The Daily Reckoning
P.S. You have to watch DDD and other 3D printing names as we begin the new trading week. If these stocks catch a bid and quickly make a move, it could signal another leg higher for many of the momentum names traders left for dead months ago. Sign up for The Rude Awakening for FREE today to see how you can trade these trends for huge gains…