Stock Performance that Will Drive You to Drink
No coffee for you this morning.
Instead, you should crack a beer to go along with your corn flakes. Just relax– it's time to talk booze stocks…
Alcohol has taken off in a big way over the past couple of years. The world has developed a thirst for some of the finer brands of whiskey and bourbon, helping spur a new era of growth in this established industry. You've probably heard that Japanese whiskey and beer maker Suntory Holdings bought Beam Inc. for $16 billion. And that's just the first of many moves that could take place in the booze biz as premium brands push for growth.
Irish whiskey maker Jameson is even building a brand new facility to help it compete with the likes of Jack Daniels. According to Bloomberg, the new distillery is part of Jameson's goal of doubling sales to more than $1.4 billion by 2020.
The bourbon market is red-hot. Bourbon accounts for 35% of all domestic spirit sales. Overseas demand is even more compelling, with bourbon currently experiencing triple-digit sales growth outside the US. Japan, Australia and some emerging markets are becoming major growth hotbeds.
But what about beer?
Microbreweries are making noise in this $100 billion industry. In fact, all of the beer industry headlines are centered around the growth of pricey microbrews. These little breweries are popping up everywhere. According to the Brewers Association, more than 2,800 breweries operated in the U.S. last year. That's the highest total since the 1870s.
But as it turns out, the major brewers are still proving to be valuable investments…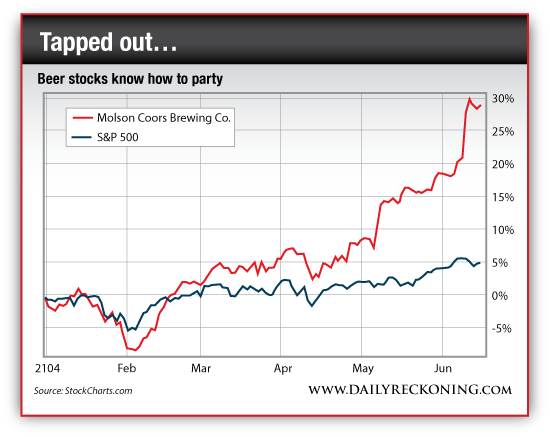 Molson Coors Brewing Co. (NYSE:TAP) is trouncing the market this year. This mega-brewer is up almost 29% since January 1st. Anheuser-Busch InBev (NYSE:BUD), while posting year-to-date returns that are more in-line with the S&P, still commands a powerful long-term uptrend that has been in effect since early 2012.
Regards,
Greg Guenthner
for The Daily Reckoning
P.S. Both of these brewers are solid "buy the dips" opportunities. Bourbon and beer are booming industries that are pushing to take advantage of the world's newfound thirst for premium brands. Sign up for the Rude Awakening for FREE today to see how you can trade these trends for huge gains…