Beaten Down Stocks Return from the Dead
Another day, another new all-time high for the S&P 500. The NASDAQ hit its highest closing level since 2000. The Dow isn't far behind…
But today's big market story that will actually help you book gains has nothing to do with Amazon's new phone or FedEx's earnings beat. So toss that newspaper aside and listen up…
It looks like everyone who sold in May is back from vacation early thanks to some dovish comments from the Fed. That's great news for momentum traders who had to endure relentless selling earlier this year.
Remember what I told you at the beginning of the week: many of these left-for-dead momentum names are beginning to show signs of life. First, it was biotechs that found their footing and began to move higher. That's when our big buy signal started to take shape.
On Monday, 3D printing stocks looked prime for a breakout. Now that these sleepy tech stocks are back in action, it's time to begin rooting through another group of beaten-down momentum names: social media stocks.
I really don't care what you think of these companies. I don't want to debate the merits of any ridiculous phone apps or crazy buyout deals. The reality of the situation is that these stocks have snapped back to life.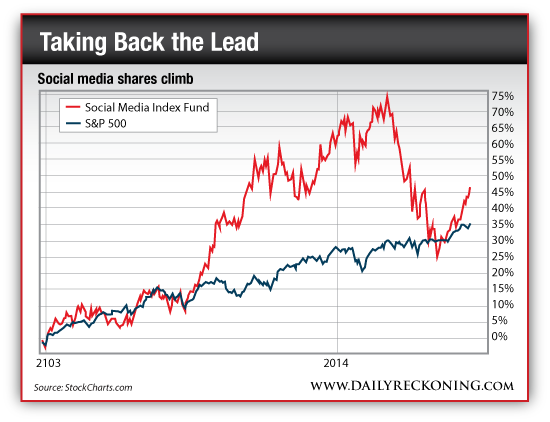 This chart pinpoints right where social media really began to get ahead of itself. After a furious rally that started last summer, these stocks went on a massive run. Reality didn't catch up until a few months ago–that's when the selling started.
But after a quick trip back to visit the S&P, buyers have stepped back in. Social media shares have put in a "V" bottom, sprinting off their lows to offer alert traders quick gains.
Granted, some of these stocks are already temporarily overextended (Yelp Inc. (NYSE:YELP) comes to mind). So the best course of action is to dig up some of these names that haven't run too far yet. Check for recent IPOs that have given back almost all of their gains since coming on the market. That could be your ticket to quick gains…
Regards,
Greg Guenthner
for The Daily Reckoning
P.S. If you'd like to know specific ways to discover just which stocks are ready to shoot up based on these criteria, sign up for my FREE Rude Awakening email edition, right here. In every issue I give my readers a rundown on the market's most lucrative trends, as well as 5 important numbers to watch and 3 specific chances to discover real, actionable profit opportunities. Don' miss another issue. Sign up for FREE, right here and start getting The Rude Awakening sent straight to your email inbox, every morning right around the opening bell.